What's wrong with this picture?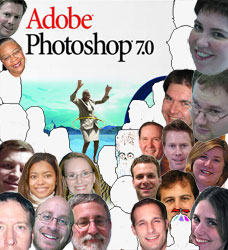 From our August 11th photo (see below), strip away Abe Hirschfeld, Alexander Hamilton, Trudy Mason, the Hemorrhoid Guy, two famous Asians and their stand-ins, a Martian, Dirk McCall (who's somewhat of a Martian himself), Sally Field, Joe Mercurio and Andy Kirtzman ... what do you get? It's the almost 90% white staff at MSHC Partners, the new direct mail company for the Virginia Fields campaign!
In the wake of Photogate, Fields replaced Winning Directions with MSHC Partners, a direct mail and Internet advertising firm out of Washington. D.C.
With 17 staff members, only two appear to be African-American and one of those is the receptionist (and we're certain she's a very nice lady). The staff photos don't suggest other minorities being represented, making the firm 89% white.
By hiring an out-of-state firm, jobs and taxes are lost in New York City and New York State.
The C. Virginia Fields' campaign has repeatedly cited diversity, inclusiveness and jobs for minorities as her rationale for running for mayor. She says she would hire a Deputy Mayor for Full Employment, but hasn't said if that Deputy Mayor would be based in NYC or another state.
This revelation comes on the heels of the disclosure that the contracting firm of Fields Campaign Manager, Milton Wilson, is barred from bidding on public works projects in New York State for five years as a result of his paying less than prevailing wages to his workers and that the campaign is not paying health benefits for its workers.
By hiring an out-of-state firm with low numbers of minority staff, the question is raised as to how a Mayor Fields would live up to her campaign promises.
Note: to the readers who pointed it out, yes, we're aware that one of the MSHC staff members has two photos in the collage.
Update: The Daily News reported on this story. Click below for the article.
Virginia Fields can't catch a break.
New York Daily News
by Michael Saul
August 15, 2005
As readers may recall, the Manhattan borough president fired her campaign strategist Joseph Mercurio and her direct-mail company following news reports last month that one of her flyers had been doctored to include more minority-group members.
Fields hired a new company, MSHC Partners, a Washington-based company that has worked on some high-profile campaigns. But that company's roster isn't exactly a rainbow of diversity.
According to its Web site, 15 of its 17 employees are white. The other two - one of whom is the receptionist - are black.
Fields' spokeswoman Kirsten Powers said Fields selected the company that would do the best job.
"She has an extremely diverse campaign staff and will continue to make opening the doors of opportunity for women and minorities a top priority, as she always has," Powers said. "We'd gladly stack our record against any of the other campaigns."
Originally published on August 15, 2005