« January 2006 | Main | June 2006 »
May 23, 2006
What led to this?
We had hoped Virginia Fields was done with politics. As long as she remains in the private sector and doesn't meddle in government -- either seeking elected office or trying to influence public issues (other than her right to vote) -- we don't wish her ill.
But as an elected official, or as a candidate for office, Virginia Fields should be nothing more than a footnote in the political graveyard.
So when Manhattan State Senator (and Senate Minority Leader) David Paterson was tapped by Attorney General and Gubernatorial candidate Elliot Spitzer to run for Lieutenant Governor, the political winds in Harlem shifted.
Perhaps more than any area of the city, the Harlem Clubhouse -- Charles Rangel, David Dinkens, Percy Sutton, Basil Paterson, etc. -- is firmly entrenched. The new City Council member, Inex Dickens (a real estate developer and a daughter of Lloyd E. Dickens, a former Assemblyman), comes from this club and was given the nod by Rangel last year.
But there's more at stake. The 'club' represents the conservative political interests ... the landlords, the developers, the corporations. Deals are made for their interests, not necessarily the larger Harlem population. No matter what the perception is of Charles Rangel in national politics, on the local level he's big business as usual. It's been like this for years, going back to the days of Adam Clayton Powell and before.
There's no doubt Rangel would support someone like Virginia Fields. He trained her. And the future of his interests are at stake.
Rangel and his friends are getting along in years (he's 77) and the scuttlebut is that he intends to retire in a few years.
Whoever runs for his seat, and there are a number of potential candidates, would greatly benefit from being positioned as a sitting State Senator.
So when David Paterson gives up his seat at the end of this year, the Rangel machine will do everything in their power to hold it for one of their own.
On January 23, the New York Times reported that Paterson was picked by Spitzer as his running mate.
See the Times article after the jump.
January 23, 2006
Spitzer Asks State Senator From Harlem to Join Ticket
New York Times
by Patrick D. Healy
Attorney General Eliot Spitzer, a Democratic candidate for governor this year, has asked State Senator David A. Paterson of Manhattan to be his running mate, and Mr. Paterson has agreed, according to Democrats close to Mr. Spitzer.
The unusually early selection of a lieutenant governor candidate carries several political benefits for Mr. Spitzer, and some potential risks. It could also portend a political power shift in the Senate, where Mr. Paterson has been the Democratic minority leader since 2002. If he were elected in November, another Democrat would take the Senate post at the start of a new era of power after 12 years of Republican rule under Gov. George E. Pataki.
Respected and popular in the party, the 51-year-old Mr. Paterson is widely regarded as a smart political tactician who helped Democrats pick up seats in the Senate in the 2002 elections.
As the highest ranking African-American in state government, he would also help solidify Mr. Spitzer's support among minority voters, a crucial demographic group in any fight for the Democratic Party nomination. Mr. Spitzer may face such a fight if, as many expect, Nassau County Executive Thomas R. Suozzi decides to vie for the nomination in the September primary.
Mr. Paterson's history may intrigue some voters: He is legally blind, born with no sight in his left eye and severely limited vision in his right. On the campaign trail he has recalled being "the first legally disabled person to attend public schools" in his district. Today he plays basketball and has run in the New York City marathon. He has also become a master of legislative politics despite being unable to read the body language of his rivals, an art form in Albany.
Yet the choice increases the possibility that the Democratic ticket in 2006 will be dominated by New York City politicians, forgoing the geographic diversity that both political parties tend to value. Mr. Spitzer lives on the Upper East Side; Mr. Paterson represents Harlem and the Upper West Side; State Comptroller Alan Hevesi is from Queens; and several candidates for attorney general are from the city or suburbs, such as Andrew M. Cuomo, Mark Green, Charlie King, and Assemblyman Richard L. Brodsky.
"I think it's a real problem not to have some geographic balance on the ticket, and I don't think that it helps their gubernatorial chances not to have a geographic balance," said George Arzt, a veteran communications and political consultant in the city. "The last time that balance was absent was 1970, and that ticket ended in defeat."
That year, the four Democrats on the ticket were all downstate candidates; three of them were Jewish, and the fourth was Basil A. Paterson - Mr. Paterson's father.
In a statewide campaign that has several candidates running as Albany outsiders, Mr. Paterson's insider credentials might also re-enforce the same image for Mr. Spitzer, who has been attorney general for seven years. Mr. Paterson has been a strong voice for change in the State Senate, as well as a critic and a friend to the Republican majority leader, Joseph L. Bruno.
By tapping Mr. Paterson, Mr. Spitzer also gives his political opponents another target to attack. Mr. Suozzi has made clear that if he runs, a part of his platform will be overhauling the state government that Mr. Paterson has helped lead.
Candidates for governor typically choose running mates around the time of the parties' spring conventions, which are in late May this year. Several other Democrats are running for lieutenant governor already, but the Spitzer camp was eager to move on the Paterson choice and elevate him as their de facto nominee.
The Paterson choice swiftly triggered speculation about Mr. Spitzer's motives:
- Was he worried about his support among minority voters, which some advisers to Mr. Spitzer say could be stronger?
- Does he regard Mr. Suozzi as a serious threat and thereby see lining up his running mate as a way to quickly unify the party around the ticket?
- Would one result be to swing attention in the attorney general's race to an upstate Democratic candidate, Denise O'Donnell of Buffalo, a former prosecutor who Mr. Spitzer is said to admire?
Ms. O'Donnell, in an interview today, hailed Mr. Paterson as "a tremendous asset to the ticket" and said she would welcome the chance to add balance, as a woman from Buffalo, to a Spitzer-Paterson-Hevesi ticket.
"I do think it's important that a ticket reflect the entire Democratic Party, and being from upstate, being a woman, is helpful in the race," said Ms. O'Donnell, a former United States attorney for the Western District of New York in the Clinton administration. "But the truth of the matter is that I'm running because I believe I have the best qualifications for attorney general."
Advisers to Mr. Spitzer said today that the decision was based solely on his appreciation for Mr. Paterson's skills and background, his reform agenda in the Senate, and their personal friendship.
"David has solid reform credentials and is someone who will be a real partner with Eliot," said one Democrat close to Mr. Spitzer. "Eliot loves David and considers him a breath of fresh air. He thinks he's bright and capable, with a personal story that's compelling. Eliot's also really comfortable with him. It makes sense on a lot of levels."
Mr. Paterson was not immediately available for comment this afternoon.
Mr. Paterson is a member of a prominent Harlem political family. His father Basil, a former state senator and secretary of state, helped build the Harlem Clubhouse, which has been a force in New York Democratic politics.
In an interesting twist, Mr. Paterson's father has already endorsed another candidate for lieutenant governor: Leecia Eve, a former aide to Senator Hillary Rodham Clinton and a daughter of Arthur O. Eve, a former deputy speaker of the State Assembly. Basil A. Paterson made the endorsement in October along with other members of the Harlem Clubhouse. The senior Mr. Paterson did not immediately return a phone call seeking comment.
Other Democrats planning to run for lieutenant governor are John Cohen, a surgeon who advised John Kerry's presidential campaign, and Assemblyman Thomas P. DiNapoli, of Thomaston.
Posted by Merkookio at 05:24 AM | TrackBack
May 18, 2006
Fields Flashback: Overestimating
In this report from the Times of Acadiana, perhaps they were being kind, especially when the lead came from the Urban Land Institute, a think tank dedicated to real estate interests (and a natural fit for C. Virginia Fields). As reported here, the ULI has been extremely controversial in its proposals for New Orleans.
Away from the spotlight of NYC press, Carl Weisbrod (now president of the Alliance for Downtown New York and a board member of the Lower Manhattan Development Corporation) and Virginia Fields made some pretty incredulous claims:
Weisbrod held up New York City as a model of political unity for disaster recovery, citing that it took only 10 weeks after the Sept. 11 attacks for the city to establish its Lower Manhattan Development Corporation, on which Weisbrod served as a board member. Both he and Manhattan Borough President C. Virginia Fields advocated a dismantling of political turfdom to present a united front to the federal government for monetary assistance.
"When your mayor, your governor, your senators, your congressmen are speaking with one voice, it's a lot harder for Washington to ignore or not respond to," Fields said.
While we can't imagine the specifics of how they intend to "dismantle political turfdom," perhaps the notion was just being rhetorical, otherwise known as a time-honored New York City method of pandering.
But thank God she didn't include the Burrow President in that fishbowl. Fields has been described by many as absent and slow-to-act in NYC's rebuilding process.
In 2006, The Lower Manhattan Development Corporation (LMDC) continues to be mired in controversy and inaction. The site of the World Trade Center remains a giant hole five years after the 9-11 attacks.
If there's any lesson to be learned, it is do not overestimate the federal government, and do not overestimate local governments' ability to be incompetent. Virginia Fields is sufficient proof of that.
See the Times of Acadiana article after the jump.
Should New Orleans Follow New York's Lead?
Conference looks at the reality of rebuilding.
by Molly Reid
The Times of Acadiana
Contributing Writer
Just as speakers and attendees of Gov. Kathleen Blanco's commissioned Louisiana Recovery and Rebuilding Conference were leaving New Orleans the weekend of Nov. 12, a new batch of master planners were on their way to the Crescent City for a conference held by Mayor Ray Nagin and his Bring New Orleans Back Commission.
The five-day planning event drew more than 50 leading urban planners and disaster recovery specialists, all members of the Urban Land Institute. The panel's visit was preceded by more than a month of research by ULI, which had made several reconnaissance trips to New Orleans in October. Throughout the week of Nov. 14-18, ULI panel members toured the city, broke by topic into discussion and planning groups, held a town hall-style meeting allowing more than 70 of the 250 attendees to voice their opinions and interviewed more than 300 citizens in the fields of health care, education, business, cultural industries and community welfare.
Panel chairman Smedes York, president of the Raleigh, N.C.-based York Properties, Inc., expressed his sympathy for the people of New Orleans and hope that ULI's presence would help everyone move forward.
"We were not here for the storm and the floods," York said. "You were. Only you can understand the devastation -- both physical and spiritual. Our role is to help with the physical and economic rebuilding of the city, to help you to look to the future."
The panel's week of research and debate culminated in a Nov. 18 public presentation at the Sheraton on Canal Street. The presentation, titled A Rebuilding Strategy, echoed the previous week's Recovery & Rebuilding Conference principles of cultural preservation, fair and equitable return rights for all displaced residents and political unity and transparency. Against the backdrop of those principles, the ULI panel made several recommendations to the public and Nagin's Bring New Orleans Back Commission.
The panel's foremost proposal to begin redevelopment equitably and without delay presented legitimate strategies laden with political viscosity. Panel speaker Carl Weisbrod, president of Trinity Church's real estate division in New York City, referred to his experience in post-Sept. 11 reconstruction to highlight the degree of difficulty New Orleans' rebuilding poses.
"I thought I had seen unbelievable devastation on Sept. 11 -- I was there when the planes went into the World Trade Center -- and it was extraordinary devastation," Weisbrod said. "But I think nothing prepared me, and I dare say for any of my fellow panelists, for what we've seen here in New Orleans and the challenges you face in addressing this catastrophe."
With those sobering reflections in hand, Weisbrod stressed the importance of acting quickly and cohesively. To do so, Weisbrod introduced the panel's recommendation of a central implementation authority called the Crescent City Rebuilding Corporation. In theory, the legislation would hand over its disaster-recovery jurisdiction to the corporation in the name of speedy progress. In contrast to the governor's proposed Louisiana Recovery Authority, which would have complete federal oversight, the corporation would consist of a seven- to 15-member board with different slots appointed by the president, governor, mayor and city council.
The functions of the CCRC would include: buying homes and property from those unwilling or unable, because of excessive structural damage, to rebuild; preventing price gouging by freezing pre-Katrina property values and mortgages and offering comparable rents for renters; extending the mortgage forbearance period and offering homeowners a second mortgage loan with zero percent interest; issuing bonds and funding developments; and fostering smaller community development groups.
"It's going to operate under the fundamental belief that all residents will be treated fairly and equitably," said panelist Tony Salazar, president of McCormack Baron Salazar in Los Angeles. "Every safeguard will be established to prevent economic windfall."
The ULI panel also proposed the creation of a Temporary Financial Oversight Board to work with the CCRC in stabilizing the state economy. Established by the state legislature and appointed in the same fashion as the CCRC, the seven-member TFOB would operate on a five-year term to oversee and endorse a new city budget, approve major rebuilding contracts and handle all recovery funds to "restore and maintain a decent quality of life and to avoid municipal bankruptcy."
Panelist Tom Murphy, mayor of Pittsburgh, bluntly advised the state to reconfigure its tax structure, stating that times of natural upheaval require an appropriate financial response. Murphy was unclear as to what kind of advisory or legislative role the TFOB would play in restructuring state taxes but was clear that an independent financial authority was necessary to handle the growing mountain of state debt and influx of federal funds.
"You need to break the rules," Murphy said. "Your tax structure stinks; you need to change it. Look at this board as a partner, a partner that is going to help to break the rules, change the rules."
Many smaller but important questions of legislative versus CCRC/TFOB authority were left unanswered. Panelists spoke of the importance of quality building and zoning codes but did not specify which governmental entity should write and pass them. Salazar told the audience to get used to seeing trailers around but did not choose either the legislature's or CCRC's side on temporary housing regulation.
The panel alluded to the political power struggles -- at all levels of government -- that could likely ensue from an attempt to consolidate all the existing rebuilding commissions, committees and authorities. But, as Weisbrod and other panelists stressed, the city and Louisiana's only hope for a healthy recovery is unity.
"I just want to underscore ... how important it is to speak with one voice, to speak with one voice soon and in unison," Weisbrod said. "And that's not just one political voice. It's also business, residents, rich, poor, all races."
Weisbrod held up New York City as a model of political unity for disaster recovery, citing that it took only 10 weeks after the Sept. 11 attacks for the city to establish its Lower Manhattan Development Corporation, on which Weisbrod served as a board member. Both he and Manhattan Borough President C. Virginia Fields advocated a dismantling of political turfdom to present a united front to the federal government for monetary assistance.
"When your mayor, your governor, your senators, your congressmen are speaking with one voice, it's a lot harder for Washington to ignore or not respond to," Fields said.
Molly Reid is a writer living in Lafayette. To comment on this article, e-mail timededit@timesofacadiana.com.

Jan. 12, 2006, 1:40PM
New Orleans residents are enraged over recovery plan
They insist that forced buyouts and a freeze on construction are no way to rebuild
Houston Chronicle
By KIM COBB
NEW ORLEANS - Frustration and anger boiled over for hundreds of New Orleans residents and evacuees Wednesday after hearing officials propose a four-month moratorium on building permits in the neighborhoods with the worst flooding from Hurricane Katrina.
The proposal includes an equally controversial, federally funded forced buyout of homes in neighborhoods deemed unlivable.
"Over my dead body," fumed Carolyn S. Parker of the hard-hit Lower 9th Ward.
Many residents in the audience vowed that the city would not force them out of their homes to create what urbanologists would call a smaller, more manageable city footprint.
"Our neighborhood is ready to come home," Lakeview resident Jeff Bruneau said. "We don't want to wait four months. So don't get in our way."
The building freeze, a recommendation of a city Urban Planning Committee, got its first public airing Wednesday from Mayor C. Ray Nagin's Bring New Orleans Back Commission.
Nagin will hear from a half-dozen other committees in coming weeks on city recovery issues ranging from education to health and medical issues.
The mayor is not bound by any of the recommendations and already has expressed skepticism about the proposed building-permit moratorium.
The population of New Orleans was 462,000 before the tragic flooding. It is estimated to be about 144,000 now and could grow to 247,000 by September 2008, the Rand Corporation estimates.
But many urban planners warn against allowing residents to move back into devastated neighborhoods if they will be isolated by blight and abandoned housing.
A moratorium on building permits effectively would protect homeowners from losing their investment in reconstruction in neighborhoods they might have to later abandon, committee chairman and local developer Joe Canizaro said.
Another voice in the debate, the national nonprofit Urban Land Institute, drew instant controversy in November when it recommended the city actively discourage development in the hardest-hit areas to concentrate the delivery of city services in more viable neighborhoods.
Nagin and the New Orleans City Council members repeatedly have stressed that individual property rights will be their first concern.
Most of the resident speakers at Wednesday's meeting were adamantly opposed to staged redevelopment that might lead to the city using eminent domain to force them from their homes.
But Gabriel Bordenave said it sounded like the proposal might be in the best interest of the city, though he doesn't support a building permit moratorium.
"We can't give the resources for all parts of the city," he said. "There are hard choices to be made. I hope you have the courage to make them."
Already muddied by politics and longstanding racial mistrust, the redevelopment debate is complicated by the fact that yet another government body, the Louisiana Recovery Authority created by Gov. Kathleen Blanco, will be the conduit for all federal storm relief funding into the city.
The Urban Planning Committee calls for pursuing flood and storm water protection, transit and transportation improvements, more parks and open space and the controversial neighborhood rebuilding plan.
It also calls for establishing planning teams, made up of residents in each affected neighborhood, by Feb. 20, and then charging them with investigating whether their areas can be sustainable by guidelines such as these:
Will the neighborhood draw a population of from 5,000 to 10,000 people? Will half the residents commit to returning? Is reasonably efficient delivery of city services, public infrastructure and utilities possible? Will there be schools, retail, worship and health facilities close enough to serve the neighborhoods?
The neighborhood groups would be expected to complete their plans by May 20, ostensibly allowing the building permits to resume for neighborhoods deemed salvageable.
Some members of the audience were visibly angry even before the presentation started. With seats for about 500 people in a downtown hotel room, more than 150 had to stand for almost two hours.
Standing at the microphone after the committee presentation, resident Harvey Bender pointed his finger at developer Canizaro.
"I don't know you, but I hate you. You've been in the background scheming to take our land," he said.
Canizaro spoke with some of his loudest critics in the audience after the meeting. But he didn't make much headway, he conceded.
"There's no question if you have 200,000 less people (in the city) there's going to be shrinkage," he said. "People don't want to hear that."
Posted by Merkookio at 07:47 AM | TrackBack
Fields Flashback: The Burrow President
We let the blog idle for a few months, but now that the State Senate race is starting to heat up, we'll cover that ... and we'll occasionally throw in some older pieces we missed or left out, in the form of Fields Flashbacks.

In November, while New Orleans was still numb from the devastation of Hurricane Katrina, The New Orleans Times Picayune, in discussing "bold ideas" from a panel of so-called specialists, described Virginia Fields as the Manhattan Burrow President.
While we know how Clara Virginia Fields has been destructive to the Island of Manhattan, we can't imagine what sort of peyote led anyone to believe she was either an expert, or somehow capable of helping the residents of New Orleans.
But the description of Fields as Burrow President is right on so many levels.
See the Times-Picayune after the jump.
Rebuilding should begin on high ground, group says
Begin with high ground, group says
Saturday, November 19, 2005
New Orleans Times-Picayune
By Martha Carr
Staff writer
In the most comprehensive recovery plan proposed to date, a panel of more than 50 specialists in urban and post-disaster planning said New Orleans should concentrate its rebuilding efforts on the sections of the city that occupy the high ground, while securing lower-lying areas for potential long-term rebirth.
Tackling what is certain to be the most controversial aspect of any rebuilding plan, the contingent from the Urban Land Institute said Friday that the city should use its original footprint, as well as lessons learned from Hurricane Katrina, as a guide in determining what areas are most logical for redevelopment.
Firing off a collection of bold ideas, the group also proposed creating a public development corporation that would buy and sell property to speed the city's redevelopment; establishing an oversight board with broad powers over the city's finances; and engineering a secondary flood-control network inside the city that would use natural ridges, levees, water reservoirs, and green space to stop widespread flooding.
The panelists, many of whom helped rebuild cities like New York after the Sept. 11 attacks and Los Angeles after the Northridge earthquake in 1994, said it's not practical to redevelop every acre of New Orleans in the short term, considering that 300,000 residents and 160,000 jobs have been lost. It's also not socially equitable to allow residents back into neighborhoods that do not have adequate levee protection and may be toxic.
"These areas are going to take more data gathering and more time," said Joseph Brown, president of EDAW, a San Francisco-based architecture and environment consulting company. "Some collective action may be needed here."
The group went so far as to draft a color-coded map of the city showing three "investment zones" the city may want to follow. The first zone included the high parts of the city, like Uptown and the French Quarter, which panelists say is ready for rehabilitation immediately. The second zone highlighted the mid-ground, which the panel suggested is also ready for individual rehabilitation, with some opportunities to put together parcels of land for green space or redevelopment.
The last zone, which included some of the city's hardest hit neighborhoods, needs additional study, but could have the potential for mass buyouts and future green space, the panel said. Those areas include most of eastern New Orleans east and Gentilly; the northern part of Lakeview; and parts of the Lower 9th Ward, Broadmoor, Mid-City and Hollygrove.
In those neighborhoods, the panel emphasized that all homeowners should be compensated for their property at pre-Katrina values. They also stressed that if scattershot redevelopment is allowed in the worst-hit areas, homeowners will begin to rehab houses on partially abandoned streets, creating shanty towns with little to no property value.
The panel's map also included green areas running along natural ridges and between neighborhoods, where members suggest creating a network of flood-protection measures, including inner-city levees and new parks, to reduce the risk of flooding and stop waters from blanketing the city.
While the proposal was immediately questioned by New Orleans City Councilwoman Cynthia Willard-Lewis, who represents eastern New Orleans and the Lower 9th Ward, others attending the panel's presentation were more receptive to the idea, but questioned whether the political will exists to make it happen.
"This is going to take tremendous will on our part," said New Orleans resident Jean Nathan. "I think we are going to need help on a sustained basis."
Central authority
The map wasn't the panel's only daring concept.
The group called for the creation of the Crescent City Rebuilding Corporation, a nonprofit development corporation that would be in charge of all funds funneled into the city for the rebuilding effort.
The corporation, to be created by the state legislature, would have the power to do land banking, buy homes and property, purchase and restructure mortgages, finance redevelopment projects, issue bonds, assist with neighborhood planning, and foster the creation of community development corporations.
While the city already has a redevelopment authority, NORA, the panelists said the agency is weak and not suitable for the monumental task of assembling land and orchestrating mass rebuilding efforts.
Panelists also said their concept differs from the Louisiana Recovery Authority currently proposed by U.S. Rep. Richard Baker, R-Baton Rouge. That agency would be totally controlled by the federal government. The Crescent City Rebuilding Corporation board, on the other hand, would have appointees named by the president, governor, mayor and City Council. Both entities may be able to work in concert if the concepts are tweaked, panelists said.
Carl Weisbrod, president of Trinity Church Real Estate, one of New York City's biggest commercial property owners, said that it only took 10 weeks after Sept. 11 for that city's leadership to band together and create the Lower Manhattan Development Corporation, signaling to the federal government that everyone was on the same page. That group has served as the city's central rebuilding agency.
"We put our differences aside for a short period of time to address the immediate challenges," said Weisbrod, who served on the LMDC's board. "Because of that, we were able to get immediate federal aid."
'Part of a team'
It's likely too late for the Crescent City Rebuilding Corporation idea to be taken up in the current legislative session, which ends Tuesday. But legislators could consider the idea in January, when they are expected to convene a second special session. Weisbrod said ULI has not lobbied for the idea at the state level. Members of Mayor Ray Nagin's Bring New Orleans Back Commission on Friday said they were hearing the proposal for the first time.
The Urban Land Institute was paired with Nagin's commission shortly after Hurricane Katrina by local developer Joe Cannizaro, who serves on the commission and is also former chairman of the Washington -based think tank.
The group has spent the past several weeks working pro-bono to advise the 17-member commission as it attempts to develop a comprehensive rebuilding strategy by year's end. All of the experts who participated on the weeklong panel, most of whom run major corporations or municipalities, such as Pittsburgh Mayor Tom Murphy and Manhattan burrow president C. Virginia Fields, volunteered their time to serve. The group has also committed to long-term assistance in New Orleans, as well as in Baton Rouge and Washington.
Their final report is due next month.
"All of us who went through this process are hooked because you all became part of our team," said ULI president Marilyn Taylor. "If you will have us, we will be with you continuing to help."
Ten members of the mayor's commission were present for the report at the Sheraton Hotel downtown. Nagin, however, was in Washington meeting with federal lawmakers.
Financial oversight
Other recommendations of the panel included creating a temporary financial oversight board to help the city avoid bankruptcy; reforming the city's tax code; creating an internal system of levees and canals that would serve as secondary protection and enhance green space; and consolidating fragmented agencies to take a regional approach to levee protection, transit services, emergency response and economic development.
Murphy said the financial oversight board, which would be created by the Legislature and run by appointees from all levels of government, would oversee and approve the city's budget, approve major contracts, and recommend financing options for redevelopment.
In the end, it would create a layer of accountability that could alleviate the concerns of federal lawmakers that money will be misspent. The panel also recommended that the city create an inspector general and board of ethics as authorized in the City Charter.
"There are interests here who want the rules to stay as they are," he said. "It won't be pretty. You have to be willing for some conflict."
Economic development
Murphy also said the tax structure, which was cobbled together over 200 years, must be changed to deal with the absence of tax revenue in post-Katrina reality: especially when it comes to the city's practice of under-assessing property.
"Your tax structure stinks, and you need to change it," said Pittsburgh Mayor Murphy. "We are making recommendations for tough love here."
On the economic development front, the panel recommended focusing on the city's traditional economic sectors, like tourism and shipping, but placing new emphasis on the music business and the health care and biosciences sector. Key to the city's growth is bringing back musicians, finding them work and getting them equipment. The same is true with the city's key medical researchers and institutions, they said.
As for the cityscape, the panel embraced the ideas set forth by the Louisiana Recovery and Rebuilding Conference last week, mainly the use of smart-growth principals, including advocating for levee and wetland improvements, developing local and regional transportation systems that connect neighborhoods, and building in areas that are safe and nontoxic. The panel advocated rehabilitating historic properties, building infill housing in existing neighborhoods and increasing green space by building corridors, bike paths and parks that connect areas.
Setting goals
Throughout their presentation, the experts emphasized the need to set short-term benchmarks for success and to break the planning into three phases: the recovery stage, which should last through Aug. 2006; the rebuilding stage, which should go from 2006 to 2010; and the growth stage, which would end in 2018, when the city celebrates its 300th anniversary.
Among the goals the panel set for the next few months is restoring electrical service to all neighborhoods by January, creating benchmarks for toxicity levels by March, rebuilding levees to pre-Katrina levels and building a protection system for pumps and water treatment facilities by June, and stabilizing port and water management facilities by August.
The group also advised urgent housing actions, including getting trailers to the area, repopulating suitable public housing, adopting a building code, asking financial institutions to extend mortgage forbearance periods, and creating centers where residents can get help rehabbing their homes.
"Your housing is now a public resource," said Tony Salazar, a developer with McCormack, Baron and Salazar in Los Angeles. "You can't think of it as private property any more."
When the panel concluded its hourlong presentation, members of Nagin's commission said they were extremely impressed by the detail of the draft report and the panel's wealth of ideas. Although the ULI panel stopped short of advocating a merger of Nagin's commission and Gov. Blanco's Louisiana Recovery Authority, it did stress that city and state leaders must craft a single vision -- and move more quickly in their rebuilding efforts.
"I appreciate your bluntness," said commission co-chair Barbara Major. "You have challenged us to make more difficult and controversial choices. As my aunt used to say, 'God can put a ram in a bush.' There has to be some behavioral changes across the board. I think we just have to kick a little butt and do what we have to do."
Before the panel submits a final report, it will hold town-hall meetings in Atlanta, Baton Rouge, Houston, Dallas and Memphis. For more information, go to www.uli.org.
Posted by Merkookio at 07:13 AM | TrackBack
May 17, 2006
Yassky Schmassky
Before we flashback to why C. Virginia Fields is running for State Senate ... and why she needs to be stopped, of course, she is not the only incompetent fool running for office.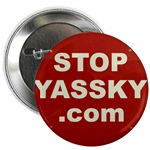 We invite you to pay a visit to http://stopyassky.com where Brooklyn residents hope to stop City Council member David Yassky from being elected to Congress in the 11th Congressional District.
What Virginia Fields did to Manhattan, David Yassky is doing to Brooklyn ... wholesale destruction of neighborhoods and communities.
While we do not agree that identity groups (whether based on race, gender, sexual preference or whatever) should have an automatic entitlement to office in any particular district, there is a history and there are arguments that the 11th district was created to provide some measure of racial equity at Brooklyn ballot boxes.
But even if Yassky were purple, he's such a horrible person. And like Fields, he built his political career on pandering and deception. He should be turned away in this year's congressional race so he may suffer the misery of term-limited lack of relevance.
Posted by Merkookio at 05:29 PM | TrackBack
Photoshop Queen seeks Senate Seat
Ever since C. Virginia Fields went down in flames in the Mayoral race, there's not been much to report. She took a fling at New Orleans, where we hope she didn't hurt anyone.
Now Fields is gearing up to run for the soon-to-be-vacated Senate seat in New York's 30th District. Not wanting to see the public trust violated again, we think it's time to urge voter's in the 30th District: Be afraid. Be Very Afraid!