April 30, 2005
More Downtown Flak for Fields
In this week's Downtown Express, an Op-Ed piece by community activist David Stanke states that Virginia Fields' manipulation undermines the role of community boards.
He's absolutely right, but what happened a few weeks ago with CB1's former Chair, Madeleine Wils, is nothing new.
Today, community boards in New York City (maybe with a few exceptions) are used to justify bad decisions of those Council members and Borough Presidents who appoint them. Very few community activists are coming up through the ranks. Independent and diverse thinking is a rarity, and often shouted-down by corrupt members with ties to politicians, developers, landlord or nightclub owners. With Virginia Fields, many newer community board members are political hacks.
While the spotlight has been on Downtown Manhattan's Board 1, similar shenanigans are going on with Community Board 2 (West Village and Soho) as reported in The Villager. Note that Fields is not the only culprit.
For the latest article on the Wils massacure, click below for the full article.
Wils should have stayed despite some flaws at C.B. 1
Downtown Express
Talking point
By David Stanke
April 29--May 05, 2005
The recent removal of Madelyn Wils from Community Board 1 by Virginia Fields exposes a level of political infighting that discredits our democratic process and the role of community boards in representing residential populations. From the perspective of an outsider, this action contributes to cynicism toward our political system. The ultimate issue is how C.B. 1 represents community interests in the political processes that drive our city. Will the removal of Ms. Wils strengthen C.B. 1 or hurt it?
Borough President Fields' stated reasons for removing Ms. Wils fall far short of sufficient justification. The sacrifice of a strong C.B. 1 leader merely to provide experience for others weakens the voice of the Downtown community. And while Wils' other positions, including on the boards of the Hudson River Park Trust, Lower Manhattan Development Corporation and Downtown Alliance constitute an excess of volunteerism, they do not implicitly establish a harmful conflict of interest. Participation on multiple boards can improve knowledge and influence on important decisions.
The ultimate objective of Ms. Fields should be to create a community board that effectively represents the voice of the people on major government decisions. Has Fields demonstrated this dedication to Downtown? My political experience and interest were born out of the disaster of 9/11, seeing our community first destroyed and then overrun by outsiders taking control of neighborhoods in distress. In these challenging times, I quickly became aware of the activities of Sheldon Silver, Jerry Nadler, Alan Gerson, Deborah Glick and Martin Connor.
The first time I saw Virginia Fields, at a televised public forum months after 9/11, I was not aware that she represented us. Her public statements did not address what I considered to be our most important issues. Only lately have I seen a public statement from her supporting the need to accelerate World Trade Center rebuilding, far too late in her term to be credible. Where has she been on environmental issues, including Deutsche Bank or West St.? The fact is that she has not had a visible presence on Downtown issues.
On the other hand, Wils' many positions leave community influence highly centralized in one individual. She speaks for the "community" in a lot of forums. Community opinion on issues frequently varies by neighborhood. Wils, as a resident of Tribeca, may be more attuned to and sympathetic with the Tribeca perspective of issues, to the detriment of other neighborhoods.
Another hazard of being a political insider is that it requires diplomacy. At times, diplomacy can be the enemy of advocacy. There is no doubt that 9/11 created difficult issues that decision makers would prefer to avoid. The legitimacy of C.B. 1 allows it to take hard positions with government organizations on important issues. If acceptance into inner circles depends on not making waves, the strength of advocacy may be compromised.
How well has C.B. 1 performed in the aftermath of 9/11? The community board has accomplished a lot, but has also left a lot on the table. On the primary issues I've been involved with, the board has had to be pushed into action rather than leading the charge. After 9/11, a number of community groups formed to advocate for the public interest including the Save West Street Coalition and two I am actively involved with, BPC United and WTC Residents Coalition. One factor behind these organizations is that C.B. 1 did not respond to issues quickly or strongly enough.
On the W.T.C. redevelopment, there has been little evidence that broad community interests have been reflected in the W.T.C. design. C.B. 1 opposed the West St. tunnel - widely opposed by the Battery Park City residents who would have to live with it - primarily on financial considerations rather than the broad range of neighborhood concerns. A broad, articulate campaign against the tunnel by Save West Street failed to derail the project until Goldman Sachs threatened to leave town because of it.
Two large damaged and contaminated buildings still sit just off the site, seemingly untouched for two years. Standards for cleaning up these and smaller buildings are only now being addressed, based on work by another local group, Environmental Action. C.B. 1 has addressed these issues in official statements, but behind the scenes in the discussions that apparently matter the most, how strongly have they been pushed?
As a resident south of the W.T.C., I feel that negative aspects of development plans have been pushed south, while the money for community projects has mostly gone to the north. All of the ugly parts of the W.T.C., such as underground parking and vehicular access, are to the south. The condition of streets there is dismal and pedestrian access across West St. is barely functional. On the other hand, L.M.D.C. money has been spent on the Tribeca Film Festival, and improvements to Hudson River Park as far north as Houston St.
More recently, on the issue of a zoned middle school for Downtown, the education committee of C.B. 1 dragged its heels on making a strong statement that every Downtown middle school child should have a guaranteed seat at a local zoned school. They negotiated a K-8 school for the East Side that relieved P.S. 234 overcrowding, but left West Side intermediate school kids out of the equation. How did the East Side K-8 get negotiated without considering the middle school issue?
But given these issues, C.B. 1's problems stem not from its leadership and Madelyn Wils, but from its structure and self-governing mechanisms. Community boards are not democratic institutions. The Manhattan borough president appoints the members of C.B. 1. They are not elected. This process can result in good people, but it can also result in political favoritism and support for narrow agendas.
Furthermore, under city law, the election of the community board chairperson fails to meet democratic standards. The chairperson is elected with a publicly recorded vote of the full board. A C.B. 1 member voting against a standing chairperson knows that the future chairperson will be aware of her/his vote. The chairperson appoints all of the committee heads, who in turn set committee agendas, and strongly influence resolutions coming out of committee. Voting against the winner is not a good career move. This structure inevitably leads to dynasties. Dynasties can accomplish incredible things, but they can also stray from democratic standards.
As for the departure of Madelyn Wils, it will only hurt the community board. It removes a dedicated and influential person from a position of leadership, without making any changes that will increase the effectiveness and balance of the organization. The biggest problem with C.B. 1 is that it has not had enough power and influence Downtown in the last three years. That problem will most likely grow with Wils' departure. And agree or disagree with her on specific issues, she has demonstrated dedication to Downtown far beyond even aggressive expectations. In removing Madelyn, Fields has reinforced the perception that she has no clue of what is going on south of Canal St.
David Stanke is co-president of BPC United and a member of the WTC Residents Coalition, two Downtown community groups that formed after 9/11.

Posted by Merkookio at 04:43 AM | TrackBack
April 27, 2005
Fields' aide fleeces homeless guy
In a Newsday piece (or click below for the article), crack reporter Glenn Thrush writes that a staff member for Manhattan Borough President Virginia Fields, who makes over $60,000 a year, was able to "borrow" $1,100 from a homeless constituent, refused to pay back the loan and now is claiming to wait for some dead relative's money to find its way north in order to pay it back.
But this incident raises several questions:
why did it take Denise Outram, Fields' general counsel, an entire working day to figure out something is wrong with this picture? Constituent Pressley goes to the MBP office for help, gets fleeced by a Fields' staffer, and Outram considers it a personal matter? Should Outram herself be referred to DOI for failing to take appropriate action?
why would someone making $60,000 be facing eviction on her own? If so, then how could the borrowed $1,100 stave off that eviction?
has Fields' office done anything to help get this poor guy back on the public housing waiting list?
why would reporter Thrush characterize the embarassment to Fields as "rare" rather than common?

A questionable loan for Fields aide
by Glenn Thrush
Newsday
April 26, 2005, 10:30 PM EDT
A longtime aide to Democratic mayoral hopeful C. Virginia Fields borrowed $1,100 from a poor and often homeless elderly Harlem man who says he enlisted her help following an eviction.
Jean Hockaday, 58, a casework manager in the borough president's Harlem office, took a loan from Edward Pressley about a year ago but has paid back only $150, according to court documents.
Pressley, 73, said Hockaday told him, during one of several conversations about his housing problems, that she needed cash to avoid an impending eviction of her own.
"She opened herself up to me and she was crying and saying the marshals were coming," said Pressley, a retired handyman who gets about $500 a month from Social Security and sleeps on a couch in his sister's apartment.
"I didn't know her very well," he added. "But I just figured she was working for the Manhattan borough president so she was OK ... She hasn't lived up to her end of the bargain."
The case is a rare public embarrassment for Fields, who can expect greater public scrutiny as she continues her steady climb in the polls.
Hockaday, who earns $60,639, agreed to pay Pressley $1,035 in an April 7 settlement agreement, according to court records. In a letter to the court, she said she hoped to get the cash to repay Pressley with money from an inheritance in Florida.
City Executive Order No. 16 requires allegations of corruption, wrongdoing or unethical behavior against city workers to be reported to the Department of Investigation.
Denise Outram, Fields' general counsel, said she decided the matter wasn't serious enough to refer to DOI after conducting a one-day investigation.
She chose not to call Pressley.
"I determined it was a purely personal matter between two individuals who were friends," she said. "This has nothing to do with the borough president's office."
Hockaday maintains that Pressley has been an acquaintance for years who sought the borough president's help in 2002 to recover several dogs that had been seized after his eviction, according to her lawyer Thomas Donaldson.
Pressley said he's seen Hockaday on numerous occasions, all in connection with attempts to get an apartment.
On Monday, he sat on his sister's couch, rifling through a plastic bag stuffed with crumpled court documents, decade-old utility bills and a recent letter informing him he'd been kicked off the waiting list for public housing for failure to file paperwork.
He showed a reporter $800 in receipts to his lawyer for help recovering the Hockaday loan and for assistance in finding a place to live.
"I've been here for about two months, but I'm going to have to find some place soon," he said.
Outram said Pressley's niece called the borough president's office earlier this year, complaining about Hockaday's failure to repay the loan.
The matter was referred to Outram, who said she immediately interviewed Hockaday, office staff and Pressley's niece, but didn't contact Pressley because he "never called the office himself to complain."
Outram said Hockaday hasn't been disciplined, but added, "I would not advise any staff member to do what she did." No other constituents have registered complaints against Hockaday, she added.
Hockaday has been a close associate of Fields' since the early 1990s. She was district manager of Fields' Harlem district office when Fields was on the City Council.

Posted by Merkookio at 04:32 AM | Comments (1) | TrackBack
April 25, 2005
Where's the Beef?
From a report in the Observer that Virginia Fields has hired Chung Seto, former executive director of the New York State Democratic Party, to run her campaign, an anonymous commenter stated, "If Virginia had a message beyond she's 'black' and a 'woman,' than Chung might have something to work with. Unfortunately for Chung, there's no there there."
Posted by Merkookio at 04:26 AM | Comments (1) | TrackBack
April 22, 2005
Fields chops head on Community Board 2
From the Villager:
"In more C.B. 2 news, Borough President Fields recently notified two well-known community activists that they were not being reappointed to the Greenwich Village board. Tobi Bergman, former president of Pier Park and Playground Association, or P3, who was a driving force in getting the FieldTurf sports fields on Pier 40, and who was vice chairperson of the board's Parks Committee, is not being reappointed. Also, Jo Hamilton, co-chairperson of Save Gansevoort Market, the group that spearheaded the successful effort to landmark the Meat Market, was not reappointed. "I'm disappointed," said Bergman. "The main reason I'm disappointed is because I've enjoyed myself on the board the last eight years." Hamilton said, "I am, of course disappointed. But I am not surprised. I tried to do a good job serving my community and I'm hopeful I'll have the opportunity to serve again." A Fields spokesperson did not provide an answer by press time as to why Bergman and Hamilton weren't reappointed. However, some think it was because Bergman was supporting MacPherson for chairperson, while Hamilton has been outspoken against granting new liquor licenses to clubs in the Meat Market's new nightlife scene."
Click below for the Villager's Editorial
Community Board 2 removals are troubling
The Villager
Editorial
Manhattan Borough President C. Virginia Fields's failure to reappoint two hard-working, well-respected members of Community Board 2 is misguided, in our opinion, and seems to have been influenced by internal power politics on the Greenwich Village board. An election for a new chairperson is in the offing, and it seems certain board members and perhaps others associated with the board are using their clout with the borough president to remove others from the board who may be supporting a candidate on the other side or, perhaps, someone against whom they may have a personal grudge.
When one thinks of a Village sports, parks and youth advocate, Bergman's name leaps to mind. A former director of operations for Central Park, former president of the Greenwich Village Little League, former president of Pier Park and Playground Association and former vice chairperson of the C.B. 2 Parks Committee, Bergman is one of the people most responsible for the brand-new artificial-turf courtyard field and now-several-years-old rooftop turf field on Pier 40. He worked to insure that when a water shaft to the Third City Water Tunnel is completed in five to six years at Hudson and Clarkson Sts. that over it will be a park facility for local youth and others. He has been a steady voice of reason on the Parks Committee.
Similarly, Hamilton's name is synonymous with the triumphant community-led effort to preserve and landmark the Meat Market. At times, she's been an outspoken opponent of granting new liquor licenses for some nightclubs and bars when she felt they were inappropriate; we hope her candidness isn't what led to her not being reappointed.
These are two individuals who represent the best in the term "community activist." They were on the board because they wanted to help their community, and by all measures they have done so in exemplary fashion.
It seems the borough president may simply be listening to the wrong voices from Board 2. To lose such members for political reasons is simply a shame. Borough President Fields, please reconsider and reappoint these deserving members.

Posted by Merkookio at 04:12 AM | TrackBack
Fields dumb at charge she's dull
Perhaps the most lasting damage from John Kerry's 2004 loss to George Bush, in terms of local politics, is that C. Virginia Fields was not able to move to Washington to head some obscure agency as she desparately desired. She could have been out-of-site and out-of-mind. But Kerry's loss is our nightmare. If it weren't for Freddy Ferrer's slip-up on Diallo, she might still be considered as viable a candidate as Abe Hirschfeld. And we're guessing that political need is driving her recent attempts to capitalize on the Diallo tragedy even as it comes to light her protestations in 1999 were as lightweight as her gravitas is now.
Sharpton is, of course, playing the endorsement game for all it's worth. Fields' claim that Shapton's reluctance to endorse has something to do with her sucking-up to John Kerry. But according to today's New York Times (click below for the article), Fields won't answer the question cited by Sharpton that she's just plain utterly dull.

April 22, 2005
Fields Says Sharpton Is Playing Payback
By RANDAL C. ARCHIBOLD
New York Times
A day after the Rev. Al Sharpton said that he would not endorse any of the candidates in the Democratic primary for mayor because none of them had a clear enough message, C. Virginia Fields, one of the candidates, took a gentle potshot at him, suggesting he was repaying the candidates for their lack of support in his 2004 presidential campaign.
"We respect the Rev. Al Sharpton and would have welcomed his endorsement," said a statement released by Ms. Fields's campaign, "but it comes as no surprise to us that he has decided not to endorse any of the four candidates. As he has pointed out, none of the Democratic candidates for mayor of New York City supported his bid for the presidency."
Ms. Fields, the Manhattan borough president and the only black candidate in the race, campaigned for John Kerry in the primaries and the general election. Her associates say she had hoped for a position in his administration. Her opponents in the primary backed other presidential candidates or sat the campaign out.
Fernando Ferrer, the former Bronx borough president, did not endorse any presidential candidate in the primaries because he did not want to insert the nonprofit organization he headed, the Drum Major Institute for Public Policy, into the race, a spokesman said. Representative Anthony D. Weiner endorsed Gen. Wesley K. Clark and the City Council speaker, Gifford Miller, supported Howard Dean.
None of the mayoral candidates chose to share Ms. Fields's sentiments about Mr. Sharpton's decision; her campaign spokesman, Nick Charles, said her statement should not be interpreted as an attack on Mr. Sharpton.
"She said it because that's the reason he gave originally," Mr. Charles said, adding that Ms. Fields had told him that she had heard Mr. Sharpton's remark about the lack of support for his presidential campaign at an unspecified event. Mr. Sharpton's aides did not dispute that he had made the remark.
As for the reason Mr. Sharpton gave in an interview on Wednesday with The New York Times - that no candidate had a compelling message - Mr. Charles said that Ms. Fields was "kind of ignoring that because she won't even answer that question."
Ms. Fields, he said, did not plan to actively court Mr. Sharpton but would accept his endorsement if he chose to give it.
In response to Ms. Fields's statement, Rachel Noerdlinger, a spokeswoman for Mr. Sharpton, reiterated his position that the candidates were not "bringing forth compelling, winning strategies and ideas."
In the meantime, Mr. Miller, the Council speaker, spoke of endorsements by prominent black religious leaders. However, one minister listed by his campaign, the Rev. Clint Miller of Brown Memorial Baptist Church in Brooklyn, said he had issued no such endorsement.
Gifford Miller's campaign said later that the minister had promised his support, but then got "cold feet."

Posted by Merkookio at 04:07 AM | TrackBack
April 20, 2005
Downtown Community Board vents anger at Virginia Fields
Until Virginia Fields arrived, community boards were usually independent and comprised of community residents active in civic, block, tenant and similar organizations. Starting in 1998 when she took office, Fields' populated the boards with cronies, hacks, bar owners, developers and landlords -- some of whom it is hard to trace any prior community involvement and most of whom are expected to provide Fields with political cover for pushing through bad real estate projects. "Dumbing-down" is perhaps a too kind description of the result of Fields' manipulating Manhattan community boards.
"At the board's meeting on Tuesday night, a parade of board members and downtown residents denounced the decision by Ms. Fields to remove the chairwoman, Madelyn Wils, who had been on the board since 1987 and had led it since 2000, earning a reputation as a prominent advocate for thoughtful redevelopment after the Sept. 11, 2001, terrorist attack."
Additional articles here and here.
Continue reading "Downtown Community Board vents anger at Virginia Fields"
April 21, 2005
A Move By Fields Causes Stir on Board
By RANDAL C. ARCHIBOLD
New York Times
In her nearly eight years as Manhattan borough president, C. Virginia Fields, who is running for mayor, has largely sought to avoid controversy, promoting herself as a balm on raw nerves.
But in the last few weeks, not only has she gained headlines for attacking an opponent, Fernando Ferrer, but she has also found herself in a squall over the seemingly mundane matter of community board appointments. This involves the removal of the outspoken, high-profile chairwoman of Community Board 1, which represents downtown Manhattan.
At the board's meeting on Tuesday night, a parade of board members and downtown residents denounced the decision by Ms. Fields to remove the chairwoman, Madelyn Wils, who had been on the board since 1987 and had led it since 2000, earning a reputation as a prominent advocate for thoughtful redevelopment after the Sept. 11, 2001, terrorist attack.
Ms. Fields said Ms. Wils was too heavily involved in other activities to devote sufficient energy to the board, and aides in the borough president's office said further that they wanted to avoid any potential conflicts of interests stemming from Ms. Wils's multiple roles.
Ms. Wils is a member of the Lower Manhattan Development Corporation and the sole downtown resident on its board, and is the president and chief executive of the TriBeCa Film Institute, a nonprofit organization set up by the actor Robert De Niro and others. She is also a board member of the Hudson River Park Trust, a city and state government organization operating a park on the river, and of a civic group, the Downtown Alliance.
A majority of the community board, 29 of the 49 members, signed a petition addressed to Ms. Fields asking her to reconsider the decision. At the meeting, board members said they would ask Ms. Fields to address the board to explain her rationale. And before, during and after the meeting, many board members and local residents made it plain that Ms. Fields's action baffled and angered them, though they understood the two did not get along.
"Madelyn is very visible," said Patricia Moore, a board member, speaking before the meeting. "She is everywhere, being photographed, when a cornerstone is being laid, at L.M.D.C. meetings. Truthfully, I don't see Virginia anywhere."
Michael Connolly, another board member, told the audience that "it's hard to see how this decision makes any sense," and Gwen Bey, a Battery Park City resident, called it an "outrageous removal."
Ms. Wils arrived a bit late to the Tuesday night meeting and was immediately called to the front to speak, choking up as she thanked board members for their support and promising to carry on advocating for downtown's needs.
"I feel touched and sad and happy, but that's life," she said, adding she would carry on with her work in other organizations. "I'm not going anywhere." She then left for a reception for the TriBeCa Film Festival.
In an interview yesterday, she declined to discuss in detail her dealings with Ms. Fields but said, "I think it would have been preferable to stay to the end of my term, but she felt strongly that I not." She added, "I don't think any board member could say I don't pay attention or work my hardest for the board."
The board passed a resolution praising Ms. Wils's service, with a few members abstaining, including Marc Ameruso, who unsuccessfully challenged Ms. Wils last year for the chairmanship. He said chairmen should devote all their energies to the board. "The next chair needs to wear one hat," he said.
Members of the board, largely an advisory panel on community concerns and development, usually serve two-year terms at the pleasure of the borough president. Ms. Fields said she advised Ms. Wils last year that despite her winning a two-year term as chairwoman, she would reappoint her only for another year, to complete projects she began. Her term expired March 31.
Ms. Wils confirmed the conversation but said she had hoped she could remain on the board until next year.
The removal of a board chairwoman was a rare, though not unprecedented, move for a borough president, aides to Ms. Fields said. But Ms. Fields said she believed that given Ms. Wils's involvement in other groups, it was time to encourage other leadership on the board.
Ms. Fields went on to praise Ms. Wils's "tremendous work."
But board members, who last June re-elected Ms. Wils as chairwoman, said they were caught off guard by the move, with many saying they learned of it only through an article in The Downtown Express, which first reported the removal.
Friends of Ms. Wils, who has been described as hard-charging, and members of Ms. Fields's staff, who prefer quiet negotiation, said the two had personality conflicts in the past.

Posted by Merkookio at 04:02 AM | TrackBack
So that's why she wasn't arrested?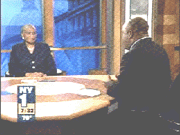 In the wake of the disastrous WCBS-2 Andrew Kirtzman interview on Sunday, Virginia Fields went on NY1 Tuesday night looking for soft-ball questions from The Road to City Hall's Dominic Carter.
Contrary to Kirtzman, Carter seemed to readily accept Fields' odd explanation that while she never said the Diallo shooting was a crime, she always thought in her own mind that it was.
While Carter did raise the same issues raised by Kirtzman and Wayne Barrett (Village Voice), he didn't press her or scrutinize her explanations as to why she wasn't arrested in 1999 when many other elected officials and activists were submitting themselves for arrest.
She stated it was "my choice" not to be arrested as it conjured up memories of her being arrested as a teenager in the South in the 1960's, but that she was otherwise active -- participating in rallies and going to Albany for the Diallo trial after it was transferred out of the Bronx.
While Carter was just lapping the blather up, he failed to recognize the incongruity of Fields' remarks. As long as she puts forth her arrest as a teenager as one of her qualifications to be the next New York City mayor, voters should question why she shied away from being one of approximately 1,200 people arrested during the Diallo protests. Surely, it wouldn't be fear of torture or confinement; protesters were routinely being given Desk Appearance Tickets (DAT) and most of the charges were ultimately dropped. At most, it would have been an inconvenience. She could have sent a powerful message that many others -- David Dinkins, Charles Rangel, Gregory Meeks, Nydia Velazquez, Ossie Davis, Ruby Dee and Freddy Ferrer -- sent. But as she said last night, it was her choice not to take the elevator to Police Plaza.
If Virginia Fields cites her participation in the 1960's Civil Rights movement, but in 1999 refused to stick her neck out for a just cause, and has such a measly explanation for it in 2005, what should voters think about her principles?
And that's what this is really all about ... whether or not C. Virginia Fields is a principled person, or just an opportunist seeking relief from term-limits.
To see how the other 1,200 were treated, click below.

New York to dismiss Diallo protest arrest cases
NEW YORK (CNN)
April 5, 1999 -- More than 1,000 people arrested while protesting the killing of African immigrant Amadou Diallo can expect to have their cases dismissed.
Manhattan District Attorney Robert Morganthau has decided to make a motion to dismiss all 1,175 cases this Wednesday, according to his spokeswoman, Barbara Thompson.
During 15 weekdays last month, protesters blocked the entrance or lobby to the New York Police Department headquarters and were arrested for disorderly conduct or trespassing.
"While the demonstrators did commit minor violations of law, the demonstrations were nonviolent, and they caused neither personal injury or damage to property," said Thompson, explaining the rationale for the dismissals.
The arrests were essentially by appointment, with lawyers for the activists handing over lists of volunteers planning to be arrested.
The demonstrators had been complaining about four police officers who shot at the unarmed Diallo 41 times on February 4, striking with 19 bullets and killing him in the vestibule of his Bronx apartment building.
When the demonstrations started, the officers had neither been formally interrogated nor arrested by authorities. The officers have since been indicted for murder, causing the protests to stop.
The first of the arrest cases is scheduled to be heard Wednesday in the city's summons court, a forum for violations less than a misdemeanor. These charges, no more serious than a traffic ticket, could have brought fines of $250 and a maximum 15 days in jail.
Most of those arrested spent five to seven hours in custody, "an appropriate sanction for this type of offense," Thompson said.
Among the more notable people arrested were former New York City Mayor David Dinkins; U.S. Representatives Charles Rangel, Gregory Meeks, and Nydia Velazquez, all of whom are Democrats from New York; Bronx Borough President Freddie Ferrer; actors Susan Sarandon, Ossie Davis and Ruby Dee and film director Jonathan Demme.
The four officers -- Sean Carroll, Edward McMellon, Kenneth Boss and Richard Murphy -- are free on $100,000 bail each. All four pleaded not guilty to murder last Wednesday.
State Supreme Court Judge Patricia Williams will set a schedule for pretrial proceedings at the next court hearing, April 30, in the Bronx.
The officers' attorneys have said that Diallo, a 22-year-old street vendor from Guinea, did not obey their instructions and that police thought he was reaching for a gun when the shooting began.

Posted by Merkookio at 03:58 AM | TrackBack
April 18, 2005
Fields interview called "Brutal to watch"

Virginia Fields probably expected easier treatment from Rudy Giuliani's former apologist Andrew Kirtzman, progenitor of NY1's never-a-hard-question Dominic Carter. But her April 17th interview on WCBS-2 Kirtzman & Co. dwelled on just two issues: did she ever call the Diallo shooting a crime (she didn't, but in her mind she always thought it was) and what would she do different policy-wise than Mayor Bloomberg (she could not cite a single thing other than babbling-on about being inclusive).
Later, during the Reporter's Roundtable segment, when Kirtzman asked what they thought of the interview, Wayne Barrett stated the interview itself "was a crime ... I think it killed her ... or she killed herself ... it was brutal to watch the way she danced around the Diallo matter." Also present were Errol Louis (Daily News), Robert George (Post) and Evelyn Hernandez (El Diario).
Listen to the interview here (audio only .mp3 format, 5.1 megs)
Posted by Merkookio at 07:34 AM | TrackBack
April 15, 2005
Downtown resident: Fields is destructive, divisive ... and absent
The following in an open letter sent to C. Virginia Fields, Manhattan borough president regarding her to decision not to reappoint Madelyn Wils to Community Board 1.
Open letter to Fields
Downtown Express
Letters to the Editor
April 15, 2005
Dear Ms. Fields:
On the morning of September 11, 2001, my third day as newly elected P.T.A. president of P.S. 234, I was standing in front of the school talking to my long time friend Madelyn Wils, who coincidently was recently elected to the chair of Community Board 1. We were discussing how our respective organizations could work together for the betterment of the elementary schools in C.B. 1.
While talking, we witnessed, along with many other Downtown residents, that first passenger jet fly overhead and crash into the north tower of the W.T.C.
Click below for the entire letter:
Open letter to Fields
Downtown Express
Letters to the Editor
April 15, 2005
Dear Ms. Fields:
On the morning of September 11, 2001, my third day as newly elected P.T.A. president of P.S. 234, I was standing in front of the school talking to my long time friend Madelyn Wils, who coincidently was recently elected to the chair of Community Board 1. We were discussing how our respective organizations could work together for the betterment of the elementary schools in C.B. 1.
While talking, we witnessed, along with many other Downtown residents, that first passenger jet fly overhead and crash into the north tower of the W.T.C.
From that moment on, and during the next two years that I was president, I had numerous occasions to work with Madelyn and C.B. 1. As you undoubtedly know, P.S. 234 was evacuated and our students, faculty and administration spent the next five months at St. Bernard's School on West 13th St. P.S. 89 was not as lucky and had to travel across town to Avenue B and Houston St. However, the executive committees of both institutions worked closely together to deal with a host of environmental problems facing our schools, from trucks loaded down with asbestos and other hazardous materials driving past our buildings, to the noise, traffic and contamination caused by the location of a barge moored nearby as part of the clean-up effort, to the need to clean our school's air filtration systems, which were clogged with W.T.C. dust. As part of our effort, we reached out to you and our other elected representatives for help and support.
The response of our public officials was overwhelming. Speaker Silver's office was always available to meet with us and work on our behalf, and Sheldon Silver personally visited with our community in the days immediately after 9/11. Deborah Glick's office was constantly in touch with us. In fact, one cold January morning when I arrived at St. Bernard's, there was Deborah Glick talking to parents to assure them that they were not in the struggle alone and that she and her staff would be there for them. Alan Gerson bared his soul and gave his blood for our children. His tireless efforts will always be remembered. I can go on and on. Jerrold Nadler and his staff fighting for our children's health and our community clean-up; Randi Weingarten of the U.F.T. visiting regularly to make sure we were getting enough educational support; Thomas Duane, and of course, the mayor's office.
However, you, our borough president, were the only elected official who did not return our calls for help. Our community, and more importantly this city's most precious possession, its children, needed help and you were not available to help them.
Now you have decided to be heard in our community. Not in support of our children or community, but to be destructive and divisive. Just when we are starting to get on our feet, just when we are getting our schools organized, just when we see development pressure reach its peak, you intercede by not reappointing Madelyn Wils, our elected representative to the city. I am not writing to defend Madelyn or to give her support because she doesn't need either from me. But no matter what you think of her style of leadership, there is one indisputable fact. She is a most effective leader.
By your absence you demonstrated your lack of concern for our children and our community. But at least you stayed away. Regrettably you changed your ways to our detriment at this critical juncture.
George L. Olsen
Individually and not in my capacity as a member of Community Board 1

Posted by Merkookio at 07:26 PM | TrackBack
Fields' removal of Community Board chair gets flack
Borough President C. Virginia Fields' 11th hour decision to oust Madelyn Wils from Community Board 1 last week raised more questions than it answered, leaving remaining board members wondering what motivated Fields to remove their longtime chairperson in the middle of her term.
"The question is, 'Why was Virginia Fields so compelled and threatened that she felt she had to remove an effective leader?'" said board member Bruce Ehrmann.
Click below to see more:
C.B. 1 members criticize Fields over leader's removal
Downtown Express
April 15, 2005
By Ronda Kaysen
Wils, a board member since 1987 and chairperson since 2000, steered the board through its darkest hours in the days following Sept. 11th, 2001. A notable Downtown figure and president and C.E.O. of the Tribeca Film Institute, Wils also sits on several other boards including the Lower Manhattan Development Corporation, the Downtown Alliance and the Hudson River Park Trust. Since 9/11, Wils has increasingly gained notice as a vocal Downtown leader, appearing prominently at many key events from which Fields was notably absent.
"Unfortunately, Downtown has become very visible since 9/11 and anybody who's doing a lot of work is going to be noted. If you look at any event, you see Madelyn in the crowd--if not in the forefront--and you don't see Virginia and that's her choice," said board member Pat Moore, who was recently reappointed to a second two-year term by Fields at City Councilmember Alan Gerson's request.
Fields is climbing in the polls in her race to unseat Mayor Bloomberg, narrowing Fernando Ferrer's lead for the Democratic nomination. Her election year decision to remove a board member who rivals her in name recognition if not power smacks of politics, according to several board members.
"I don't see what the city or Downtown or Virginia gained by this maneuver. I don't understand what was accomplished here other than mendacity," said board member Paul Hovitz, who has not received his own re-appointment papers yet. "When you get past these petty personal issues, you come down to: now you're the borough president, you're a candidate for mayor, what have you accomplished for your campaign other than saying you're vindictive?"
Hovitz, chairperson of the Youth and Education Committee, may run in a June election to fill Wils' seat. "I am considering putting my hat in the ring," he said. Last year Wils suggested to Hovitz that he run for chair, indicating at the time she might not finish out her term, Hovitz said.
Wils sent board members an undated resignation letter late last week, noting Fields intended to remove her in 2004, but chose to extend her appointment for "at least an additional year to enable me to complete negotiations on projects."
When Wils ran for a two-year term as chair in June, neither she nor Fields disclosed that Wils had less than a year left on the board.
"When we voted last year, I was not aware that it was only an appointment for a year," said Moore. "Someone should have made us aware of that and it should have been Virginia."
Wils attended a C.B. 1 meeting earlier this week, sitting in the back of the room instead of on the committee podium where she had sat the previous Wednesday, shortly after Fields had announced her removal from the board.
She did speak at Tuesday's meeting, however: as an L.M.D.C. board member, on behalf of the corporation, but not on behalf of C.B. 1.
When asked by Downtown Express why she chose not to disclose her looming removal from the board when she ran for re-election last June, Wils declined to comment.
"Madelyn had some advice from folks in the know and other elected officials not to make a big deal about this because Virginia would change her mind in a year, which she did not," said Hovitz, adding that it was Fields' responsibility - not Wils' - to inform the board.
The secrecy surrounding Wils' removal does not end with her unusual one-year appointment (board members are typically appointed to two-year terms).
Many board members learned about Wils' removal from Downtown Express, and none said they had received any official confirmation from Fields' office.
"I hadn't heard about any of this until I saw UnderCover," said board member Anthony Notaro, referring to a column in this paper that ran two weeks ago.
Notaro, chairperson of the Battery Park City Committee, is gearing up for a board chair campaign of his own now that the seat is open. "What has transpired in the last few weeks has been very difficult; we now need to focus on what we can do to address many of the issues that face our community," he said.
Several board members have yet to receive word that their own positions are secure. Although the borough president's office is typically slow to act in the reappointment process - a tradition that predates Fields - the unexpected removal of Wils has members concerned.
Fields' office offered little help settling the matter. "I don't think we know who is up [for reappointment] and I don't think we know who we're going to re-appoint. That's not what the focus of our office is at the moment. We have 27 other things to do," deputy borough president Barbara Baer told Downtown Express on March 25, six days before terms expired. Baer added that Fields' office was not required to re-appoint board members until "June or July."
Downtown Express filed a Freedom of Information Law request with the borough president's office on March 25 for the list of board members up for re-appointment, which is public information. Her office has yet to respond as is required by law.
The last two weeks have been marked by a flurry of activity and anxiety as board members scrambled to find accurate information, and some campaigned to keep their leader afloat. Several board members circulated a letter, led by co-chair Richard Kennedy, calling for Wils' re-appointment.
Although the group garnered 29 signatures - the majority of the 50-member board - many board members felt pressured into signing the epistle, an outcome Kennedy insists was unintended. "No pressure was meant to be extended, if someone felt that way, they certainly didn't express that," he said in a telephone interview.
Some board members are less than distraught over Wils' removal, including Marc Ameruso, who ran an unsuccessful campaign against Wils last year and intends to run for chair again now that the seat is reopened. "I'm sure that if [Fields] is not going to reappoint someone, she must have a really good reason not to," he told Downtown Express last week. "It's the only way I can look at it."
Now serving as interim chair in Wils' stead, Kennedy also has his eyes on a more long-term crack at chairmanship, although he would not elaborate on his campaign. "My only goal for the next few months is to be sure we can do all the things to move the community forward," he said.
Still reeling from the sudden changing of the guards, the Executive Committee drafted a resolution on Wednesday night lauding Wils for her years of service and leadership.
Every board needs its chair and C.B. 1 will elect a nominating committee at its full board meeting next Tuesday to fill the empty seat. "I don't know what the issues were between Virginia and Madelyn, but I do understand there are divisions on the board and now is the time to unify," said board member and possible chairperson candidate Julie Menin, although she did not elaborate on what divisions plagued the board.
The nominating committee will announce the candidates the following month and in June the board will vote publicly for a new chairperson to finish out the remaining year of Wils' term.
With reporting by Divya Watal and Josh Rogers
Posted by Merkookio at 07:22 PM | TrackBack
Virginia Fields - I am not here to cast blame
Virginia Fields would have seen New Yorkers being arrested in front of Police Plaza from her 19th floor Borough President's office in the aftermath of the Diallo shooting ... but she never found the elevator.
Instead, she issued a press release stating that while she was appropriately sad and outraged, the shooting was not the fault of Mayor Giuliani or the Police Commissioner and she was not casting blame.
As this entire issue revolves around nuances of finger-pointing, her campaign has benefitted to what Freddy Ferrer did (or didn't) say a few weeks ago. While Mr. Ferrer was getting arrested, Fields looked on. Click below for images of her 1999 press release or get the PDF file here.
Posted by Merkookio at 07:08 PM | TrackBack
Future voters not good enough?
The Villager reports that Virginia Fields failed to show at the opening day ceremonies of the Greenwich Village Little League, although she had indicated her intentions to show up. The kids may not yet know how lucky they were.
Posted by Merkookio at 07:06 PM | TrackBack
April 14, 2005
Ferrer didn't flip. Fields just flopped
While this site looks at Virginia Fields, given that at the very least she has benefitted from the Ferrer gaffe on the Diallo shooting, or more likely that her campaign surrogates are out in full force fanning the flames of divisiveness, a closer examination looks at what Ferrer really said, that Fields' 1999 comments were remarkably similar and that Ferrer was the one out in the street getting arrested while Fields didn't do all that much.
Gonzalez: Ferrer never flip-flopped
Posted by Merkookio at 06:50 AM | TrackBack
Gonzalez: Ferrer never flip-flopped
According to this Gonzalez column, "some pygmies in the press are doing all they can to inject racial division and confusion into the campaign." Could that be this guy, or these guys? According to Gonzalez, Virginia Fields' "office in the Municipal Building overlooks 1 Police Plaza. While hundreds of New Yorkers including Ferrer were arrested each day outside her window, Fields stayed in her office, above the fray. Worse, she defended Giuliani and Safir."
Click to see the column
Ferrer never flip-flopped
NY Daily news
Juan Gonzalez
April 13, 2005
Here we go again.
A new mayoral race has barely gotten into gear and already the political opportunists in this town and some pygmies in the press are doing all they can to inject racial division and confusion into the campaign.
The target this time, just as he was in 2001, is Fernando Ferrer.
Ferrer has been the Democratic front-runner in the polls from the start. Those polls indicate he has the best shot to unseat Mayor Bloomberg and bring an end to 12 years of Republican rule in City Hall.
Leaders of the pack expect a bull's-eye on their back.
But for a month now, Ferrer has been peppered almost nonstop with questions about just one issue - his stance on the infamous 41-bullet police killing of Amadou Diallo in 1999.
We've all heard the charge that he supposedly flip-flopped. This allegation stems from a March 15 speech he made before a group of police sergeants. He told them the killing of Diallo was not a crime.
He also said that "what gave rise to that incident was bad policy, bad training, bad decision-making."
Those words, his critics claim, contradict his words and actions back in 1999, when he was arrested in mass protests outside Police Headquarters following Diallo's killing.
But my examination of Ferrer's words and actions back then and now shows just the opposite. He has been remarkably consistent on the Diallo tragedy.
He never called the shooting of Diallo a crime in 1999. He repeatedly talked about terrible management policies by Mayor Rudy Giuliani and Police Commissioner Howard Safir as creating the conditions for inexcusable incidents like the Diallo shooting.
He told the sergeants the same thing I recall him telling me in a 1999 interview. This was shortly after the four cops who shot Diallo were indicted for murder by Bronx District Attorney Robert Johnson. He said it wasn't appropriate for him, as a public official, to comment on a matter being decided in a courtroom.
As for the protests after Diallo's death, when he and then-state Controller Carl McCall were arrested, Ferrer said he was trying to send a message to Giuliani that NYPD policy had to change. He was tired of all the civilian complaints piling up in his office about police abuse, he said. Complaints that City Hall was not addressing.
After the protests at Police Headquarters led by the Rev. Al Sharpton, a Justice Department investigation of the NYPD revealed that three out of every four cops found guilty of misconduct by the Civilian Complaint Review Board had never been disciplined during the Safir years.
Sure, there were many in this town, including myself, who felt the Diallo shooting was so unjustified it warranted a murder indictment of the cops involved.
But Ferrer was never one of them. He never called for an indictment of the cops.
He always stressed that he was not attacking the city's many good cops. He had his eye on a City Hall run even then.
You can disagree with his views, but smearing him as inconsistent is dead wrong.
More importantly, those who have relentlessly attacked Ferrer the past few weeks have failed to examine the record of the other mayoral candidates on the same issue.
Take Manhattan Borough President Virginia Fields.
Her office in the Municipal Building overlooks 1 Police Plaza. While hundreds of New Yorkers including Ferrer were arrested each day outside her window, Fields stayed in her office, above the fray.
Worse, she defended Giuliani and Safir.
In a press conference on Feb. 10, 1999, Fields said: "A tragic event like the shooting of Amadou Diallo is not the fault of the mayor or the police commissioner, and I am not here to cast blame." She even referred to the Diallo shooting as an "isolated tragedy."
During the next six years, she never called the Diallo incident a crime.
As for City Council President Gifford Miller and Rep. Anthony Weiner, the other Democratic mayoral hopefuls, neither was arrested in any Diallo protests. Miller was part of the press conference where Fields made her milquetoast remarks.
Then there's Bloomberg. He has no record to examine other that his four years in City Hall.
So Ferrer, the mayoral candidate with the most consistent record of standing up against policies that lead to police abuse, gets tarred and feathered over the Diallo case.
It's tough being a front-runner.
Originally published on April 13, 2005

Posted by Merkookio at 06:47 AM | TrackBack
What did Fields say in 1999?
Here's what C.V. Fields said in the wake of the Diallo shooting in 1999. Nothing really to complain about ... she speaks of the shooting as a terrible tragedy, that police policies and community relations must be improved and that a full investigation must happen. She did not say the shooting was a crime.
Manhattan Borough President Responds To Diallo Murder
by Michael P. DeMarzo
February 11, 1999
The New York Beacon
Manhattan Borough President C. Virginia Fields stated, "I am outraged and saddened by the shooting death of Amadou Diallo. The bullet-riddled body of Mr. Diallo sadly serves as a reminder that we have much to accomplish in terms of bridging community and police and revising police procedure.
"This young man tried to flee violence and instability, but instead needlessly met his death in the country and city in which he sought refuge.
"I applaud District Attorney Robert Johnson's immediate effort to investigate another alleged case of excessive police force. I anticipate a timely and just resolution to this tragedy.
"No New Yorker, or anyone for that matter, should have to leave their home wondering if their life will be ended by someone designated to protest and serve them. As the leader of this city, the Mayor must vigorously defend the rights of all New York City residents. Crime should plummet, but never at the expense of the civil rights and protections for which so many of us have struggled.
As energetically as civilian crime is targeted, the Police Commissioner must strongly and repeatedly declare that there is absolutely no tolerance for civil rights violations or the use of excessive force. Both police officers and the public deserve the benefit of thorough and extensive training to avoid these tragic situations.
In this city and throughout the nation, quality of life and equality of life must always go hand in hand.

Posted by Merkookio at 06:44 AM | TrackBack
What did Ferrer really say?
What did Ferrer really say at the Sergeants' Benevolent Association meeting?
Diallo: A Tragedy, or a Line?
Village Voice Blog
Freddy Ferrer's Diallo debacle simply won't die. Wait, what did he say again? Eh, who cares. The important thing is that "Mr. Ferrer is bogged down by the kind of gaffe that has defined other candidates and foiled their campaigns," as the lead piece of the Times Metro Section told us this morning. The gaffe itself is almost a non-issue now that we can talk about the reaction to the gaffe, Freddy's futile attempts to make up for it, and the strategic implications of those attempts.
But just for nostalgia's sake, how about a look at what Freddy actually said? According to one observer of the March 15 Sergeants' Benevolent Association meeting at which Ferrer made the statement, the sequence went like this:
Click below for complete article.
Diallo: A Tragedy, or a Line?
Village Voice Blog
Freddy Ferrer's Diallo debacle simply won't die. Wait, what did he say again? Eh, who cares. The important thing is that "Mr. Ferrer is bogged down by the kind of gaffe that has defined other candidates and foiled their campaigns," as the lead piece of the Times Metro Section told us this morning. The gaffe itself is almost a non-issue now that we can talk about the reaction to the gaffe, Freddy's futile attempts to make up for it, and the strategic implications of those attempts.
But just for nostalgia's sake, how about a look at what Freddy actually said? According to one observer of the March 15 Sergeants' Benevolent Association meeting at which Ferrer made the statement, the sequence went like this:
Q: You didn't answer my question. What is your opinion of the incident, was it a crime or was it a tragic accident?
Ferrer: No, I don't believe it was a crime. Do I believe there was an attempt in a lot of different places to over-indict? Sure. But once it's in the criminal justice system . . . people like politicians and people like community leaders really need to stay away from it and let people get their day in court. That was in the criminal justice system and that's why I believe that it was appropriate for me not to comment on it. Not to make a comment, not to make a statement. DA's will do what they do, jury's will do what they do. The important issue for me is that policies matter. What gave rise to that incident, and hear me clearly, what gave rise to that incident was bad policy, bad training, bad decision making. You've gotta avoid that at all costs in this city. That's what gave rise to it.
Cop: Unfortunately that could happen to any cop out there on the street at any time, uniform, plain clothes--anything. I think you're pointing out some of the problems that did occur, but to just point to only that is just a matter of circumstance. Everything came, it was just like the perfect storm, bad English on the part of the person who was killed--Mr. Diallo--and everything went bad.
Ferrer: You know something, I submitted myself to voluntary arrest in that incident, by the way it made my mother freak out. Because the whole idea of my growing up was to not get in trouble, not get arrested. We had a police commissioner and a mayor then whose policies divided this city and seemed bent on intentionally dividing this city. And yes I know an incident like this can happen on any mayor's watch and any police commissioners watch, I'm not in the mind of Diallo or those four officers, but I can tell you that what happened is not good, can we all agree on that?
Well, as long as we all agree on that, let's move to the things we can prevent. We can prevent bad policy from taking place, we can prevent bad decisions from taking place . . . to try to prevent it in the future. And let's try to do that by bringing police and community together in common cause with each other. I've been committed to that throughout my entire public life. I believe that's the way we break, finally, the back of crime in every corner of this city.
The first two lines--the part about the shooting not being a crime and the remark about over-indicting--are what touched off the furor that Ferrer is now trying to extinguish by saying the remarks were "careless" (check out his explanation here). But despite Ferrer's attempts at damage control, he has been slammed for pandering to the police and allegedly switching his position from what he said in 1999.
The full March 15 remarks indicate that while Ferrer did cuddle up to the cops, he also criticized the police department policies and "bad decisions" that led to the shooting. Granted, it was a fairly gentle critique, but it pretty much echoed what Ferrer said in the wake of the Diallo verdict in 2000:
The bigger issue is reform of the Police Department. That still has to happen. And that is all about building a relationship of trust between the community and its Police Department. That, at the end of the day, is what will keep people in the community and police officers safer.
The charge that Ferrer "flip-flopped" is based on the notion that back in 1999, when Ferrer was one of several public officials arrested for an act of civil disobedience protesting the shooting, he called it a "crime." But I can't find an article in which Ferrer is quoted referring to the shooting as a "crime" in 1999. In fact, it's hard to find anyone who did call it a "crime" six years ago. Council speaker Gifford Miller made reference on February 20, 1999--as Freddy did in the recent SBA remarks--to the wider policy issues at play: "We need to begin to very clearly acknowledge that there is a problem larger than the Diallo incident," he's quoted by the Times as saying. On the day after the shooting, the Times reported that Kyle Waters, a Diallo family lawyer, said, "For him to be sent back to his homeland in Guinea in a box is a horrible tragedy." Manhattan Borough President C. Virginia Fields, who has benefited in the polls from Freddy's decline, also referred to the shooting as a "tragedy."
Well, if it's a tragedy, it's not a crime, right? That's what the Patrolmen's Benevolent Association wanted us all to think. At a rally in late March of 1999, cops began carrying signs that read, "It's a Tragedy, Not a Crime." That soon became the rallying cry for backers of the four shooters, and was the essence of the case their defense lawyers made when they were tried for Diallo's death.
It was a very effective slogan, and it apparently still is. Back in '99, it separated the sentiment that Diallo's death was deeply unjust from the question of whether someone was criminally responsible for it. Now in the early stages of the 2005 race, it has the people who protested the killing (Al Sharpton, Ferrer, et al.) wrestling over the rhetoric engineered by their opponents. It's tragic.
Posted by Murphy at 03:28 PM, April 13, 2005
Voice Blog
Posted by Merkookio at 06:40 AM | TrackBack
April 12, 2005
Virginia Fields, the Touchy-Feely Mayor
Jarrett Murphy of the Village Voice gives a once-around on our favorite pork-barrel politician. On the surface, Fields may be helped be Ferrer's flub, but she has never (and not in this article) given any rationale for her candidacy, nor has the substance of her record and style been scrutinized. Peeling away the layers of the blather candidate, incompetence and arrogance will soon show itself.
Click below for Murphy's Voice article:
Dreams of Fields
As Ferrer slips, her once dismissed mayoral bid looks serious
by Jarrett Murphy
Village Voice
April 12th, 2005 11:34 AM
Six years after the killing of Amadou Diallo in a hail of 41 bullets, Fernando Ferrer managed to get winged. Ferrer's self-inflicted wound on March 15, when he told a police union audience that the Diallo shooting was not a crime, dented his front-runner status. This was good news for C. Virginia Fields, the Manhattan borough president running a distant second and taken seriously by few. Suddenly, she was a hot commodity in the race. But the good news for Fields could be bad news for Democrats.
Five months before the primary, it's silly to predict whether or not the Diallo debacle will doom Ferrer. Fields is still well behind in the polls, getting about 20 percent, while Ferrer pulls well into the 30s. If the vote were held today, however, the surveys say Freddy wouldn't win outright. He'd have to face Fields in a runoff, and as Fields's strategy man Joseph Mercurio notes, "Once you're in a runoff, anything can happen."
In other words, Fields could actually win--the Democratic nomination, at least. But the last three mayoral races prove that winning the primary doesn't get you the keys to Gracie Mansion. The very qualities that Fields's campaign hypes--that she is the only African American in the race, the only woman, and a progressive with a bio that includes marching with Martin Luther King Jr.--play better to loyal Democratic primary voters than to the general electorate. Therein lies the potential bad news about Fields's rise: She's the perfect candidate to edge out a fellow Democrat who'd have a better shot at winning City Hall. Right now, Ferrer is the only candidate who beats Mike Bloomberg head to head in all three main polls.
Of course, most people--62 percent in the most recent Marist poll--simply aren't paying much attention to the race. That's welcome news for Fields, who is just now getting in gear. Until Election Day 2004, she had been hoping for a post in the Kerry administration. When Ohio voters nixed that plan, Fields--term-limited from running for beep again--began seriously weighing a run for mayor, and only entered the fray in January.
As of last week, she had yet to hire a campaign manager, and her press secretary hadn't started on the job yet, leaving Mercurio to multitask those roles. The late start may explain why she trails the pack in fundraising, with $1.2 million collected. Ferrer has raised $3 million, City Council Speaker Gifford Miller $4.5 million, and Congressman Anthony Weiner $1.6 million. Fields's campaign website went up only two weeks ago. It's called newyorkers4fields.com.
A catchier name would be nice, say "www.virginiafields.com." Trouble is, that name's been taken by a group of activists who are deeply opposed to Fields's candidacy. While neither wanted to be named in print, two members of this group told the Voice that their complaints about Fields concern her land-use decisions--one of the few policy areas where borough presidents actually have a role. They cite Fields's support for development along Eighth Avenue, which some community activists opposed. They criticize the amount of contributions she has accepted from real estate interests (at least seven of her top 13 contributors are linked to real estate). And they claim that her views on the defining issue of the campaign so far--the West Side stadium--have shifted.
Last month, Fields told WNBC's Gabe Pressman in an interview, "When we started talking about a stadium almost three or four years ago, I was then and I still am opposed to a stadium on the West Side of Manhattan." But a statement from Fields's office in September 2000 said she opposed a "stand-alone" stadium, "but would support the construction of a stadium for the 2012 Olympics if it were built as part of other structures that would ultimately benefit New York City." The current stadium deal includes such structures, like the expanded Javits Center. By March 2001, however, Fields was saying that she opposed linking the stadium plan to the Javits work.
Mercurio doesn't think policy issues like the stadium will decide the Democratic race. It'll be about style and presentation, he says--how voters' buttons are pushed. Fields has an advantage there, he boasts. Where her male rivals sound like technocrats or bullies, Mercurio says, "you get from her that she's actually interested in making people's lives better." That emphasis on the touchy-feely was on display last week at an LGBT candidates' forum at NYU, at which Fields referred more than once to the importance of "attitudes," and when discussing hate crimes opined that "tolerance can be taught."
Fields's internal polling apparently shows that she and Ferrer pull even as people learn more about the candidates. Getting her word out is pricey in New York, and Fields has spent most of her money already. According to campaign records through March 15, she has less than half a million in the bank. But her sudden transformation into a serious challenger could convince more donors to open checkbooks. "Nothing succeeds in politics like success," veteran political guru Norman Adler tells the Voice.
No matter what dough Fields raises, she'll never outspend Bloomberg, who dished out at least $72 million last time around. For all the buzz about the mayor's bucks, though, it's important to remember that most of his 2001 candidacy looked like the political equivalent of Steve Fossett's early balloon trips: a rich man's folly, doomed to failure. That all changed after Ferrer and Mark Green fought their nasty duel, and 9-11 turned Giuliani's endorsement of Bloomberg into electoral gold.
Even with Sir Rudy's imprimatur, Bloomberg won by a mere 35,000 votes--about 2 percent of ballots cast. That's something to keep in mind if the current Democratic field seems weak. Whoever wins the party banner is staked--theoretically at least--to a 5-1 registration advantage over the GOP mayor. And while having the mayor's billions would be a plus, there could also be advantages to not being Mike.
"It might very well be that by the time we get to November it could be 'Anybody but Bloomberg,' " Adler says. "New York's a funny place."
Original is here.

Posted by Merkookio at 06:36 AM | TrackBack
Subliminable -- I have a plan!
Apparently Fields herself, like Robert George, gets her skewed facts (the alleged $720 million) by reading the Post and nothing else. Why did Fields even respond to George's column other than that she needs a job come January? And she should give the claim of being against the stadium a rest.
Click below to see her response to Robert George:
FIELDS' WEST SIDE DREAMS
NY Post
April 11, 2005
Robert George suggests I could gain political capital by supporting a new West Side stadium ("Fields Needs New Dreams," Opinion, April 5).
Thanks. But, no thanks.
I remain convinced a new stadium for the Jets is the wrong use for the West Side rail yards, Manhattan's last frontier for major development.
In November 2001, before Mayor Bloomberg took office, I proposed a blueprint for development of the rail yards. I outlined new housing built on a deck over the yards, office and commercial uses, expansion of the Javits Center to the north, a major public park and the extension of the No. 7 subway line.
I want the Olympics to come to New York City, and I'd love to have the Jets here. But, I agree with Rep. Anthony Weiner that the stadium should be built in Queens.
With a desperate housing shortage and skyrocketing rents, new apartments on the West Side that will benefit New Yorkers 100 percent of the time is better than a stadium that will remain empty 95 percent of the time.
It stands to reason that building housing and a hotel on the West Side and a stadium in Queens would generate at least as many construction jobs as building the stadium on the West Side.
The first deal proposed by the Jets was highway robbery. It would have given away the rail yards for $100 million, and it is astounding that Bloomberg supported the rip-off. The Jets new offer of $720 million is better, but the financing still cheats the city and the MTA.
So, Mr. George, while columnists and pundits rarely change their positions, I urge you to consider making a smart flip-flop and oppose the West Side stadium that you have so forcefully supported. A flip-flop might do wonders to enhance your reputation as a clear thinking fiscal conservative who will do anything to protect taxpayers.
C. Virginia Fields
Borough President
Manhattan

Posted by Merkookio at 06:34 AM | TrackBack
Not very sublime
April 5 -- Right-wing New York Post columnist Robert George sends an open letter to C. Virginia Fields suggesting that she flip on the stadium. Using the argument that the Jets bid for the MTA railyard was $720 million (it was actually only $210 million present value), this Bill O'Reilly dilettante apparently only reads the Post and actually believes Virginia Fields is against the stadium! Maybe her wink isn't that obvious.
FIELDS NEEDS NEW DREAMS--WHY NOT THE STADIUM?
NY Post
By ROBERT A. GEORGE
April 5, 2005
An Open Letter to C. Virginia Fields:
Congratulations on the recent jump in your polling numbers -- but you know that wasn't really about you, but about Freddy Ferrer's "Diallo cops were overindicted" flap.
Your campaign still needs a real energy boost. You still trail the other three Democrats in fund-raising. And even though you've been Manhattan borough president for eight years, no one really knows who you are or what you care about.
And that mailer you sent out last week -- "I was arrested with Martin Luther King"? Sorry to be so blunt, but voters don't really care what you were doing 40 years ago. (Just ask John Kerry.) Voters want to know about the dreams you can fulfill today.
So: How do you break away from wannabes Gifford Miller and Anthony Weiner and start seriously cutting into Ferrer's lead?
My humble suggestion: Do a smart flip-flop. Rescind your opposition to the West Side stadium and fully embrace the project.
I know what you're thinking: A flip-flop is what's got Ferrer in free-fall. But that wasn't a one-time change of position. And Freddy has flipped on so much -- death penalty, abortion and now Diallo -- that it starts to look like a major character flaw.
And you can honestly point to a reason for your change of position: We're no longer looking at the awful original plan -- a no-bid steal of a deal that would've given away the MTA railyards for $100 million.
Now, the Jets' offer has ballooned to $720 million. This is a demonstrably better deal -- especially considering the deteriorating condition of the subways, an issue that you've been raising more and more.
Your repositioning works as a weapon against Mayor Bloomberg, too: Suggest that he might have had more support before if he hadn't been seen as cutting a clearly bad deal while refusing to listen to outside input.
Plus: Why keep opposing a project that some of your most likely allies now support?
The decisions by Rep. Charles Rangel and the Rev. Al Sharpton -- the ultimate insider and the classic upset-the-applecart outsider, respectively -- to ignore party lines and endorse a deal supported by the two most recent Republican mayors suggests something may be changing in black politics.
Last time around, several black businessmen endorsed Bloomberg -- but that was partly payback for the Democratic primary.
This is different. This isn't about being against someone -- it's about being for something. It's about specific, substantial interests.
For economic development.
For jobs in the black community -- and the city at large.
For minority contractors getting a stake.
In short, this is the exact opposite of the whole affirmative-action/set-aside structure that Giuliani got rid of 10 years ago.
To the contrary, this is an example of what ethnic groups have been doing in New York since time immemorial: getting a seat at the table and working a deal that addresses their concerns.
Sharpton points out that the Jets' overall plan included working for months with a task force of several firms involved in the minority- and woman-owned business world.
"This wasn't hard for me," the reverend says. "We [knew] that the MTA is going to take a bid -- and the Jets [were] the only ones showing a commitment to the black community. Cablevision has offered nothing -- and has never addressed minority issues."
It would appear that black leaders have begun to recognize that they can take a very different stake in the city's future.
So, Ms. Fields, why not join them? You have the opportunity to clearly separate yourself from the rest of the pack.
Be bold.
Be the candidate of economic growth in the city. Heck, call for some sort of consumer- or homeowner-friendly tax cut.
An economically friendly black female candidate interested in bringing a major sports team to the city? That's not a bad combination -- and one, it should be noted, that might be attractive to some donors that are perhaps wavering on other candidates.
Yes, you might be dubious about taking advice from a columnist from The Post.
But, hey, even a stopped clock is right twice a day. Or so they say.
Cordially, Robert A. George

Posted by Merkookio at 06:29 AM | TrackBack
April 11, 2005
Bloggers on CVF
We always thought better of Reverend Al, but lately he's been eyeing steroids...
At The Politicker:
In response to Fingering Freddy:
"Too bad Virginia is one of the worst mayoral candidates of all time."
"Fields and Sharpton - perfect together. A candidate with no record and no message beyond her gender and race, coupled with perennial candidate/wanna-be-power broker/philandering "man of the cloth" with no record of his own."
And at the Working Families Blog:
Something Old, Something New, Something Borrowed...
I noticed a new slogan on C. Virginia Fields' web site: "Let New York be New York Again." Reminds us a bit of John Kerry's toying with a campaign slogan borrowed from Langston Hughes ("Let America Be America Again"). Of course, Fields also has campaign literature bearing the banner, "A Mayor for All New Yorkers" mentioned in the Daily News last week. That slogan was borrowed from Ferrer '01.
Posted by Merkookio at 06:24 AM | TrackBack
Fields would be weakest against Bloomberg
"The Democratic political establishment does not view Ms. Fields, the only African-American candidate in the primary, as the strongest to take on Mr. Bloomberg. Little known beyond her constituency, and with a limited record since she's in a job without much power, she might be the weakest in the field.
"If she gets the Democratic nomination, it is fair to surmise that Mr. Bloomberg and his fans will be quietly delighted ... It's hard to see how facing a Fields challenge could weaken his chances."
The article speculates that Fields is only a stalking-horse and some are hoping for William Thompson to run for Gracie Mansion in four years. Would such Democratic leaders risk spoiling the chance of their party taking back the Mayoralty after twelve years of Republican control?
Foraging for the Truth in City Politics
New York Times
April 11, 2005
Posted by Merkookio at 06:22 AM | TrackBack
April 10, 2005
Fields in LaLa Land

Few knew that Fields planned to jump into the 2003 California Gubernatorial race where she could have gone up against Gary Coleman, Arnold "GirlieMan" Schwarzenegger or even Larry Flynt. Why she didn't is anyone's guess as Californians love that blather. Let's do lunch, baby.
Here's her press release. Page 1 and Page 2.
Posted by Merkookio at 05:13 AM | TrackBack
April 09, 2005
Reporters: Fields is Mush
Inside City Hall
Reporters' Roundtable
NY1 News
April 8, 2005
"If someone did a flip-flop on Diallo, it was Virginia Fields," said Wayne Barrett of the Village Voice describing how the Borough President stayed in her 19th floor office in the Municipal Building while advocates and elected officials protested at Police Plaza in response to the Amadou Diallo killing.
"If you get a press release from C. Virginia Fields, you get mush. It might work for a while, but not if you want to be a serious candidate." -- David Seifman, New York Post
Posted by Merkookio at 05:10 AM | TrackBack
April 07, 2005
Fields: NY's Dumbest
I vehemently object to your 1/19 editorial ("A Confederacy of Sleazes"), which characterizes Manhattan Borough President C. Virginia Fields as one of "New York City's stupider Democratic politicians..." Anyone who has endured one of Fields' rambling cliche-laden speeches or suffered through her incoherent rants of political doublespeak will respond that she is not merely one of New York City's stupider politicians. She is, undoubtedly, the stupidest.
S. Dempsey, Manhattan
NY Press Mail section
February, 2000
Posted by Merkookio at 05:07 AM | TrackBack
April 06, 2005
Who is Virginia Fields?
"My Mother always told me, send a donkey around the world and he comes back a donkey," says municipal barbarian and parking-lot magnate Abraham Hirschfeld about C. Virginia Fields. And as you sit here among the sophisticates in the National Arts Club and watch borough president-elect Fields kiss downtown's monied asses, you suspect he might just be right.
From 'Who is Virginia Fields?'
by Andrey Slivka
NY Press, Dec. 3, 1997
"You will recall that throughout my campaign it was about bringing people together," Fields proclaims to the November meeting of the Manhattan Neighborhood Council, and your eyes glaze over. "Education. Every community wants to see their schools function better,' she announces, and your chin hits your breastbone. "They want to see their children have an opportunity for a good education--that's good," she attests, and spittle froths your lips. "Under my leadership we will do an assessment--an analysis--school board by school board..." she threatens, and you're staggering out into daylight, because there's only so much of this you can take.
Say what you will, the 51 year-old Fields, former City Councilmember from Harlem, is now a respected member of the New York political establishment, a sacred cow for the local Democratic Party and, given Manhattan borough presidents' traditional political ambitions a likely eventual contender for the mayoralty. She's also the brand-new leader of your borough, so it's worth considering the following questions: who is this woman, how did she achieve her position and how necessary will it be in the next four years to care whether or not she's alive at all?
If you're Abraham Hirschfeld, you've just run against Fields in the November general election and had her hand you your ass and walk away with 68 percent of the vote, light as that voting was (the Board of Elections says 338,787). You're fighting off both an indictment on state income tax fraud and suspicions that you arranged the contract murder of a business rival. So your opinion about Fields will be as clear as they come.
"As a politician she's very good, probably," Hirschfeld magnanimously allows, "because all she has to do is doubletalk."
Any specific examples, Lord Churchill?
"The best example Is If you see her district," shrugs Hirschfeld. "It's the worst slum district in Manhattan. it's the worst school district in Manhattan. It's the highest unemployment in Manhattan. And those are her credibilities."
Why, in Hirschfeld's sophisticated opinion, would Fields want her new job? If she didn't get anything done on the Council, why would she assume a higher-profile position in which her alleged lack of activity would be that much more obvious?
Probably "because she can't get another job," says Hirschfeld flatly.
Having lived for many years in Fields' 9th Council District with no real awareness that I lived in a "slum," I'm willing to state that Hirschfeld's being unfair. Besides, it's common knowledge that the 12 or 13 people who pay consistent attention to the City Council's finaglings consider Fields to have been one of that august body's more effective members. Lu Blain of the New York Public Interest Research Group, for example, comments that Fields was "a good Council member... She definitely made a contribution on the Council--I think a bigger one than most Council members."
And it's not hard to dredge up city politicos willing to praise her. Ed Koch joined many of the Democratic Party's older and more sclerotic bosses in endorsing Fields, and says "she had a good record" on the City Council.
"because all she has to do is doubletalk."
Still, Hirschfeld's not the only municipal figure who's willing to imply that she's a mere Democratic machine soldier, a "party hack" with "a bit of a nasty streak," in the words of a former city attorney who worked with Fields In her early Council days.
City Councilman Adam Clayton Powell IV, for example, notes that Fields is "too much a creature of the political machine, too much of a creature of the establishment, the status quo." Powell, who has called the Harlem political establishment's embrace of Fields an example of "backroom politics," doesn't "think she will bring any new or fresh ideas into the borough president's office." Fields, says Powell, Is the sort who contrives to "find an allegiance" to "any Democratic establishment" organization or figure.
"Of course, right now she comes out of the Harlem Democratic establishment, which I call the Harlem mafia. Some people might find that a strength," Powell concedes, "In that she can work well within the system and relates well to others and is a team player and all those good things. I just think she's too much of the extreme when it comes to working within a team. She carries the ball anywhere she's told, but she has no initiatives of her own." says Powell, "She would never challenge the system, never challenge the powers that be. She was just greasing the wheels of government."
The Rev. Al Sharpton, who calls Fields "very congenial," says that she has "no real record of standing up passionately behind certain issues. There's not an issue that you would think would be identifiable to Virginia Fields."
Sharpton alludes to Fields' history of criticizing Giuliani-era city budgets as inhumane and then voting for them anyway When the Mayor sawed $50 million from the Health and Hospitals Corp.'s budget, Fields, who's acquired a reputation for protecting social-services pork, first complained, then capitulated, then proclaimed that she'd been "able to restore $30 million" and that she finds it "important to work collaboratively and cooperatively."
Fields is ennobled by her mystique as one of the youngest black politicians to have participated in the Civil Rights movement. As the former city attorney who worked with her puts it, she's "actually been arrested at a time when getting arrested meant that you risked getting the shit beaten out of you," a reference to the Birmingham native's teenage experiences marching with Dr. Martin Luther King, Jr.
Fields subsequently moved to Harlem, where she became involved in local politics and ingratiated herself with the Democratic Party establishment that lined up behind her this year (with an enthusiasm it didn't muster for its most obedient hack, Ruth Messinger).
Harlem powerbroker Rev. Calvin Butts, for example, called Fields the "vanguard~' of something or other at her campaign kickoff event last January. Koch, Messinger, Dinkins and other old dogs on the sagging Democratic porch--not to mention, interestingly enough, the Liberal Party, on whose ticket Giuliani ran--endorsed her. And Democratic State Senator David A. Paterson gushed that Fields represented "an important new voice" for New York. "Fields is now symbolically the liberator of an African-American political community that has been reeling since the defeat of Mayor Dinkins," he proclaimed.
She's a voice, that's for sure. The question is, of what sort and to what purpose? The Liberal Party's endorsement of Fields is a good index of what we can expect; New York Co. co-chairman Richard Sedlisky explains that his organization supported Fields because she was the 'best of the then candidates who could be able to work with whatever administration won the November election... We felt that she could work with Giuliani or whoever the other person might have been." Straight down the mediocre divide.
What do the Democrats hope to accomplish by installing in the beep post this yes-woman, this apparent beard for a corrupt, ideologically-torpid liberal establishment? This berserker-- this mayoral bully-boy--bestrides the city like a colossus, pushes the political discourse toward new extremes of paranoia and surveillance, and Messrs. Dinkins, Koch, Cuomo, et al,, give us this?
Predictably, Ed Koch scoffs at the notion that Fields is too much a straddler.
"I'm glad she is mainstream," he says. "I'm mainstream. She represents what I think the city wants, which is responsible politics, As I sum it up, liberalism with sanity"
She's not too much a conciliator, a team player?
"I don't understand how you can be too much of a conciliator in a city of this diversity," Koch sniffs. "I think she does a terrific job."
And if Ed Koch says it, it's got to be true.
"The process has been thoroughly corrupted," recent Manhattan borough president candidate George Spitz is saying, "and the borough presidency is part of the picture." Spitz is in his mid-70s and is lawyer and retired state auditor who generated publicity over the summer for his unique candidacy: if elected, Spitz would eliminate the office.
Spitz is no crank. The Daily News endorsed him, which is testimony to a feeling among many political observers that the borough presidency is now a useless and financially wasteful position, a symbolic ombudsman post that involves little more than an exorbitant $114,000 salary and the right to dole out patronage jobs. The borough president used to sit on the powerful Board of Estimate and exercise control over questions of land use and development. But the Board of Estimate was eliminated in 1990, and today's presidency merely possesses the power of budget and land-use review; controls a small percentage of the city budget and appoints members to the Board of Education and City Planning Commission. Spitz claims that eliminating the office would save taxpayers $27 million.
Like many people you ask about Fields, Spitz concedes that she's a "bright, decent" person. "I ran against the job," he says, adding that he "can't say anything nice about the Job of borough president, which I think is useless." The borough presidency, Spitz says, "doesn't have any real function. And I thought the job should be done by the Borough Board just as easily"
Why would anyone want the job?
"There's 88 patronage jobs there! Two limousines, two chauffeurs!" Not to mention "the right to distribute money to groups to buy.." Spitz's voice trails off wearily. "The system is so corrupted, it's terrible. And they don't want any change."
Spitz makes it clear that he doesn't think Fields is mercenary. "I don't know whether that was Virginia's motive. Maybe she has some ideas that she wants to put in play. But she would have more power as a City Councilperson than as a borough president, because a City Councilperson at least has a vote."
Too bad, then, that term limits prevent Fields from remaining on the Council,
Spitz says that the presidency is "one of a number of patronage mills-the community boards, the school board, the borough president, the public advocate." If Fields Is "using this for higher office, she may very well be good in higher office, but I don't think she can do much in this job."
What about the opinion, expressed by Rachel Leon of the advocacy organization Common Cause, that the borough presidency provides a correction to mayoral power, which might be useful given Gracie Mansion's current megalomaniacal occupant?
"The Borough Board," Spitz explains, "which consists of all the City Council people and the chairmen of the community boards, could provide a better balance... It would have more clout, since councilpeople actually have votes. A borough president doesn't have any vote."
Attorney Charles Juntikka also believes that the borough presidencies are useless. He's considering organizing a referendum to eliminate all five positions, since "they no longer make sense under the Charter." According to Juntikka, the borough presidency is just "a launching pad to be elected to something else" and a "terrible waste of money." Borough presidents, he jokes, "are the baronesses, the dukes" in a "medieval system" of patronage.
As for the idea that the borough presidency provides a governmental counterweight, Juntikka says, "If we could make the mayoralty and the City Council legitimate and uncorrupt systems, we wouldn't need these crazy things they come up with as counterweights. I'm not accusing Virginia Fields of being corrupt, no more or less than most other politicians in this city... it's just one other organization that big contributors can hand money into. Of course it increases the level of corruption."
Koch sees it differently. For him, the position seems to be a sop for placating restive constituencies.
"I believe the borough presidency serves a very appropriate role," he says. "When you have a city as diverse as New York City is demographically, you have to have city representatives [who] have sufficient representation of different groups so that people will feel comfortable. And if you eliminated the five borough presidents--who I believe also have roles to play in their own boroughs as cheerleaders and in seeking attention for the needs of their constituents--you would be deprived of an opportunity to have blacks and Hispanics and whites represented on the city-wide tickets."
Slick. And indicative of the cynicism and brain-dead ideological pandering that's operating here: without the borough presidencies, Koch is saying, the Democratic Party would lack pork--would lack useless positions in which to install "women of color" and thus buy off minority-interest-group constituencies, who might otherwise wonder what the Democratic Party's done for them in the last million years. And notice the disingenuous way Koch adds "whites" to the equation as an afterthought, just to reassure you he's not condescending to minorities.
My repeated attempts to interview Fields about these matters were unsuccessful. Maybe she's very busy. Draw your own conclusions, but it comes down to this: either Fields is a hack who's been installed in a figurehead position to buy off, you know, the uptown vote, or she's a hack for whom the Democrats have planned a great political future. Either way, one suspects that the Democrats have once again botched it.
"I don't think she'll ever do anything there as the borough president," says Abe Hirschfeld. "If she couldn't do it in the City Council, in the borough presidency she has no power whatsoever."
Posted by Merkookio at 04:48 PM | TrackBack
A name so beautiful, they named a ham after it

Virginia really is a beautiful name. It evokes images of Shenandoah at dawn or the Blue Ridge on a late-summers day. And unfortunately, it also evokes guffaws and jitters over New York's premiere ham politician, C. Virginia Fields.
So what does the initial "C" stand for? We know ... and there's no shame in an equally fine first name (maybe we'll reveal it later).
But why does C. Virginia Fields not reveal her first name? In her conduct of public affiars, Ms. Fields is the master of misrepresentation, so this might be just another aspect of her character.
Posted by Merkookio at 07:10 AM | TrackBack
April 05, 2005
What's this all about?
Options and Opportunity.
In 2005, New York City voters can create opportunity. With your help, you can help revitalize Virginia Fields' private sector job prospects. Better suited as a working-stiff, Virginia Fields could take home a salary of hundreds of thousands of dollars as a lobbyist where she could push for a stadium, noisy nightclubs and not have to suffer the indignities of pretending to listen to the concerns of constituents.
It's very important that term-limited politicians like Ms. Fields be given an equal opportunity to push back-room deals for well-heeled and slimy clients.
This site is a grass-roots effort by New York City residents and has no connection with, approval by or any funding by any other Mayoral candidate.