« July 2005 | Main | September 2005 »
August 20, 2005
Fields feels the burn
In this July 11th article, the Daily News' Maggie Haberman suggests that Virginia Fields inability to raise funds will deny her the ability to run television advertising. Fields is spending money as fast as she can take it in.
The final weeks of the primary after Labor Day are crucial for any candidate to get his or her message to the voters. For the Haverman article, click below:
Fields feels the burn
by Maggie Haberman
New York Daily News
July 11, 2005
If Virginia Fields hasn't raised a huge chunk of campaign cash by today's latest fund-raising deadline, she may not be able to air more than a week of TV ads, insiders predict.
The embattled Democrat, who has spent nearly a week embroiled in a campaign photo flap over a doctored flyer, has lagged far behind her primary rivals in fund-raising. Yet her burn rate, the pace at which she's spending campaign cash versus taking it in, is 99% this year, records show.
In a five-month stretch, Fields raised $467,000 - and spent $460,000 of it, mostly on a raft of consultants, with recently axed strategist Joe Mercurio raking in the most.
Going into today, Fields had just $450,000 in cash on hand, according to the Campaign Finance Board. Several sources said that, after she was the main beneficiary of Fernando Ferrer's spring stumbles, she's struggled with fund-raising because her poll numbers started sagging again.
And after she failed to defend herself and her campaign manager from her ex-strategist's claims that they knew all about the doctored flyer, insiders are questioning whether she'll be able to raise any major cash.
That could be a big problem, because TV advertising can cost more than $1 million a week to stay competitive in the primary. And even if she qualifies for up to a million dollars in matching funds, she's still going to be limited for TV money.
The Dems are expected to start advertising sometime next month.
A Fields spokeswoman said the campaign is continuing to raise money, and is "confident that we will have the resources to get our message out to New Yorkers."
The Rev. Al Sharpton, meanwhile, used his radio show to take a swipe at Mercurio, calling him unprofessional for blaming Fields in the flyer flap, and saying his comments bordered "on some very, very ugly language."
Mercurio said he was merely "correcting the record"--and, in an apparent olive branch to his old boss, urged Sharpton to endorse Fields.
Posted by Merkookio at 10:16 AM | TrackBack
August 14, 2005
What's wrong with this picture?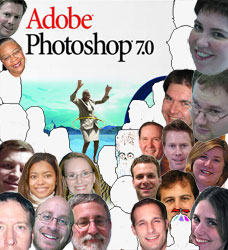 From our August 11th photo (see below), strip away Abe Hirschfeld, Alexander Hamilton, Trudy Mason, the Hemorrhoid Guy, two famous Asians and their stand-ins, a Martian, Dirk McCall (who's somewhat of a Martian himself), Sally Field, Joe Mercurio and Andy Kirtzman ... what do you get? It's the almost 90% white staff at MSHC Partners, the new direct mail company for the Virginia Fields campaign!
In the wake of Photogate, Fields replaced Winning Directions with MSHC Partners, a direct mail and Internet advertising firm out of Washington. D.C.
With 17 staff members, only two appear to be African-American and one of those is the receptionist (and we're certain she's a very nice lady). The staff photos don't suggest other minorities being represented, making the firm 89% white.
By hiring an out-of-state firm, jobs and taxes are lost in New York City and New York State.
The C. Virginia Fields' campaign has repeatedly cited diversity, inclusiveness and jobs for minorities as her rationale for running for mayor. She says she would hire a Deputy Mayor for Full Employment, but hasn't said if that Deputy Mayor would be based in NYC or another state.
This revelation comes on the heels of the disclosure that the contracting firm of Fields Campaign Manager, Milton Wilson, is barred from bidding on public works projects in New York State for five years as a result of his paying less than prevailing wages to his workers and that the campaign is not paying health benefits for its workers.
By hiring an out-of-state firm with low numbers of minority staff, the question is raised as to how a Mayor Fields would live up to her campaign promises.
Note: to the readers who pointed it out, yes, we're aware that one of the MSHC staff members has two photos in the collage.
Update: The Daily News reported on this story. Click below for the article.
Virginia Fields can't catch a break.
New York Daily News
by Michael Saul
August 15, 2005
As readers may recall, the Manhattan borough president fired her campaign strategist Joseph Mercurio and her direct-mail company following news reports last month that one of her flyers had been doctored to include more minority-group members.
Fields hired a new company, MSHC Partners, a Washington-based company that has worked on some high-profile campaigns. But that company's roster isn't exactly a rainbow of diversity.
According to its Web site, 15 of its 17 employees are white. The other two - one of whom is the receptionist - are black.
Fields' spokeswoman Kirsten Powers said Fields selected the company that would do the best job.
"She has an extremely diverse campaign staff and will continue to make opening the doors of opportunity for women and minorities a top priority, as she always has," Powers said. "We'd gladly stack our record against any of the other campaigns."
Originally published on August 15, 2005
Posted by Merkookio at 07:37 PM | TrackBack
August 11, 2005
The Next Generation of Scapegoats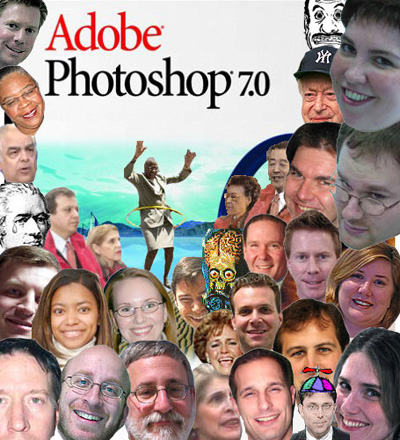 We all know what happens when C. Virginia Fields screws up and she needs a patsy.
So we thought it quite odd when we noticed MSHC Partners poking around our little blog in the last few days.
But it all made sense when yesterday's New York Post reported that the Virginia Fields campaign had replaced the scapegoated Winning Directions with this new direct mail outfit, based primarily in Washington and San Francisco.
Presumably, MSHC was hired -- not only to drain what's left of the Fields' campaign bank account -- to produce literature and mailing pieces to try to convince New Yorkers that Virginia Fields has a chance in hell of being our next mayor.
So we're guessing that MSHC wants to see what's possible with Adobe Photoshop. While they wouldn't dare use the two infamous Asians or Trudy Mason again, we thought we could give MSFC Partners some ideas
... using their own staff photos as mock-ups (and a few other faces for fill). All they have to do now is obliterate their own faces and insert
some diversity.
And we would love to be a fly on the wall when they explain to the Fields people why they were spending time on this blog instead of trying like hell to come up with some convincing drivel for the campaign. Heck, maybe they can pitch to the campaign the idea that
Fields is inclusive, eh?
Posted by Merkookio at 12:01 PM | TrackBack
August 10, 2005
Around-the-Clock Coverage of the Hirschfeld Legacy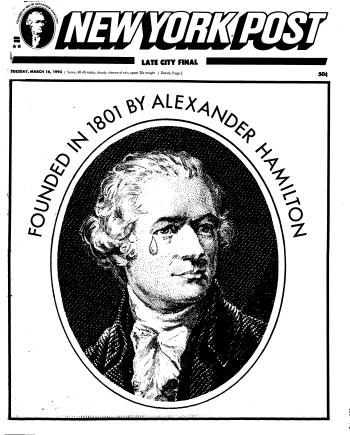 For the benefit of our readers, we present the Collector's Edition of the March 16, 1993 pre-Rupert Murdoch New York Post, where Abe Hirschfeld ran the paper for all of 16 days. Forget Tawana Brawley. Forget Bernie Goetz. This is the stuff of legend.
For an Adobe Acrobat version of the paper (selected pages -- about 5 megs), click here.
Posted by Merkookio at 02:36 AM | TrackBack
We Interrupt this Attack Blog!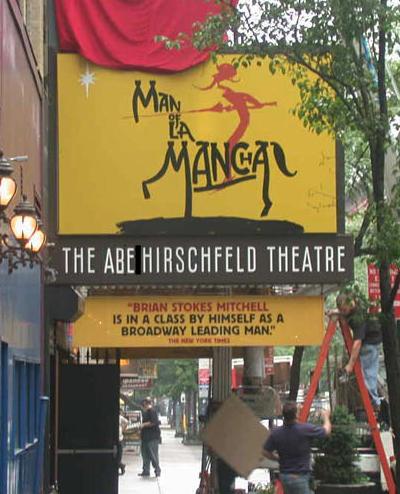 Dateline New York, August 10, 2005 -- He's Gone! No, not Peter Jennings. Honest Abe Hirschfeld passed away last night in Manhattan.
In the heat of the 1997 campaign for Manhattan Borough President, candidate Abe Hirschfeld said of C. Virginia Fields, "My Mother always told me, send a donkey around the world and he comes back a donkey." Fields beat Hirschfeld by 43 points. See here.
In 2004, when he ran for U.S. Senate, Hirschfeld proposed rebuilding the Javits Center and have it double as a stadium along the lines of his Vertical Club. But on the other hand, some of the so-called serious planners and architects appointed to Manhattan's Community Board 4 by Virginia Fields and Christine Quinn also suggested the same thing: put a stadium on top of the Javits and make it look like Frank Gehry squeezings from a Pepsodent tube.
Your webmaster had the unique horror of directly following Abe Hirschfeld in giving testimony at a 1998 City Council forum on a proposal for Yankee Stadium on Manhattan's West Side. Then Council Speaker Peter Vallone was running for Governor (actually taking a dive) and he held the forum with almost no public notice, but nonetheless he was jerking Giuliani's chain and feigning opposition to the stadium.
So there he was, Abe Hirschfeld, demonstrating his plan for a Yankee Stadium on the Hudson along with a model and a see-through plastic roof. Hirschfeld had had his young grandson repeatedly remove and put back the roof on top of the model, although no one could figure out what that accomplished. It was reminiscent of Andrew Giuliani at Rudy's inauguration in 1994. At one point something happened and the model slipped off the table onto the floor, scattering about, whereupon the audience broke into hysterics.
Hirschfeld was a lot of things. Had he been elected to the Borough Presidency in 1997, he would have been as bad if not worse than C. Virginia Fields. But where he bested her, he was entertainment.
And he was right about Virginia Fields.
Click below for the New York Times obit
August 9, 2005
Abe Hirschfeld, Eccentric Developer Who Courted Publicity, Dies at 85
by Corey Kilgannon
New York Times
Abe Hirschfeld, the eccentric real estate magnate who made a fortune building parking garages in New York City and spent much of it courting publicity and running unsuccessfully for public office, died today at Mt. Sinai Hospital in Manhattan. He was 85.
The cause was complications of cancer, his son, Elie, said.
Abe Hirschfeld was one of the city's inimitable cast of characters, defined by zany behavior that grew even zanier in the face of crisis. In 1993, he took over ownership of the bankrupt New York Post for about two weeks, firing its editor, Pete Hamill, and infuriating the staff. Even as The Post spun into chaos, the multimillionaire Mr. Hirschfeld was selling his trademark polyester crossword puzzle ties for $2 apiece. Perhaps the most memorable moment of it all came after a bankruptcy judge ordered Mr. Hirschfeld to reinstate Mr. Hamill and Mr. Hirschfeld planted a big kiss on Mr. Hamill's wincing face for photographers.
In 1998, Mr. Hirschfeld publicly offered $1 million to Paula Jones to settle her sexual harassment lawsuit against President Clinton. In 1999, while representing himself in a tax fraud trial in Manhattan, he took the opportunity to tell Jewish jokes to the jury and to show off a model of his plan to revitalize Yankee Stadium. After the jury declined to convict him of tax fraud, he offered each juror $2,500.
In June 1996, he started Open Air PM, an afternoon paper whose motto was "Love thy Neighbor." It folded after five months.
He even tried to produce for Broadway, financing "Prince of Central Park," which opened and quickly closed in 1989. His attempt to underwrite a show by the comedian Jackie Mason quickly devolved into a public squabble.
After being jailed in 2000 on charges of trying to hire someone to kill a longtime business partner to gain his property, Mr. Hirschfeld managed to stay in the papers by having a publicity agent schedule frequent jailhouse interviews. In his later years, Mr. Hirschfeld lived in a luxury co-op on Fifth Avenue filled with modern art.
Mr. Hirschfeld was prone to making wildly contradictory statements and was constantly accused of not paying his bills. His relationships, whether with business partners, employees or family members, often turned into lawsuits.
"Any person that achieves things and accomplishes things is a little crazy," he once told a reporter in thickly accented English. "Perfectly sane people you only find in an insane asylum."
In its list of "Builders and Titans," Time magazine included Mr. Hirschfeld among the 100 "most influential business geniuses of the century," along with the likes of Walt Disney, Henry Ford and Bill Gates.
Abraham Jacob Hirschfeld was born in Turnow, Poland and immigrated to Palestine in the early 1930's. Most of his extended family, he later said, stayed behind and died in the Holocaust.
He said he worked in factories as a youngster and that his gift for business ventures began in adolescence with a job watering orange trees. He bought a donkey and devised a quicker method and charged more money.
In 1943, he married Zipora Teicher, another eastern European immigrant, and they had two children.
Besides his wife and his son, he is survived by a daughter, Rachel Hirschfeld of Manhattan, and a brother, Menashe Hirschfeld of Montreal, eight grandchildren and two great-grandchildren.
In the 1950's, the family came to the United States and Mr. Hirschfeld began buying commercial real estate, finding a niche developing parking garages. He claimed to have pioneered the semi-enclosed "open-air" garage, which he called a successful innovation because it was cheaper to build and maintain and because "cars don't catch cold."
He owned the Vertical Club on the East Side, one of the early luxury health clubs in the city, co-owned the Hotel Pennsylvania and had interests in the Crowne Plaza Holiday Inn at Times Square and residential properties throughout Manhattan.
But craving perhaps more glory than real estate could provide, Mr. Hirschfeld developed an insatiable appetite for publicity and injecting himself into headlines whenever possible, mostly by running expensive campaigns for elective office. The political party line varied, but the nickname did not. It was always Honest Abe.
It was Honest Abe for Congress, for New York City Council, for Manhattan borough president in 1997, for New York state lieutenant governor, for state comptroller in 1998 and for mayor of Miami Beach.
That he was rarely even a factor in these races did not seem to bother Mr. Hirschfeld. His candidacy typically lasted as long as he could manage to draw reporters to his news conferences. He did serve as treasurer for the New York State Democratic Committee in the 1960's and was elected to the City Commission of Miami Beach in 1989. While serving, he made headlines by spitting on a Miami Herald reporter.
Since many of Mr. Hirschfeld's assets were mired in lawsuit, debt and ownership disputes, it was hard to determine his net worth. All he would say is that it was over $10 million.
In a 1999 trial on charges that he had failed to pay $3.3 million in back taxes, the jury deadlocked and Mr. Hirschfeld offered each of the 10 jurors a $2,500 check. He called it a reward, but prosecutors complained that it was a message to jurors in his upcoming cases.
In 2000, he was sentenced to one to three years in jail for criminal solicitation for an unsuccessful 1996 plot to kill a longtime business partner, Stanley Stahl, a real estate magnate with whom he had a bitter feud and a "survivor take all" agreement for several properties they co-owned. He served two years. In 1993, when the New York Post was in a financial spiral, Mr. Hirschfeld got a bankruptcy court judge award him control of the paper, which he would hold for just over two weeks. He fired Mr. Hamill, the editor, and threatened to fire many newsroom employees and use the paper to print his wife's poetry. The staff mutinied, held protest rallies and at one point devoted virtually every page of news coverage and editorial space to unseemly articles about Mr. Hirschfeld. One issue featured a front page illustration of Alexander Hamilton, the Post's founder in 1801, with a single tear running down his cheek, and included a Page 3 headline asking, "Who Is This Nut?"
Mr. Hirschfeld only seemed to relish the attention. He called the issue a collector's item and took credit for its brisk sales.

Posted by Merkookio at 01:07 AM | TrackBack
August 08, 2005
New threats from C. Virginia FIelds
An August 8th email from the Fields campaign, seeking cash for her campaign for Mayor, has a tone that is both desperate and oddly threatening. While not admitting how desperate her campaign really is for cash [see here and here], she makes a plea for last-minute funds for the reporting period that ends at midnight, August 8th.
Candidates often use reported contributions to justify the viability of their candidacy. In the case of Fields, that would be about all she has going. From the first day, political observers have questioned her rationale for running, her record and her ability to win.
For those fools throwing money at Fields' dead-in-the-water campaign, she threatens to:
* with a $25 contribution ($125 with matching funds) will pay for a mailing to a tenants association (she will blather on about protecting tenants but won't tell them about all the landlord and developer contributions she's taken over the past 8 years and the landlords and landlord attorneys she has appointed to community boards).
* with a $50 contribution ($250 with matching funds) will pay for 1,500 buttons for supporters (somehow we suspect that means 1,500 buttons plastered over her one supporter, Trudy Mason).
* with a $100 contribution ($500 with matching funds) will pay for printing of campaign literature to be distributed to hundreds of people at subway stops (that assumes anyone is interested in reading her mush, and also includes the cost of several Adobe Photoshop experts and Asian stock photos).
* with a $250 contribution ($1,250 with matching funds) will pay to run a phone bank to target voters for 3 hours (she has to rent the space and phone lines because organizations that traditionally provide such services gratis have stayed away from her).
For the complete email. click below.
From : C. Virginia Fields
Reply-To : newyorkers4fields@verizon.net
Sent : Monday, August 8, 2005 5:30 PM
Subject : I need your help.
I have had the privilege of campaigning around this wonderful city - from Riverdale to Flatbush, from Flushing to St. George, from the Upper West Side to Far Rockaway. New Yorkers share the same concerns as I do: the education of our children, the ability to afford to live in New York City, the safety of our subway system, and the overall quality of life for all of us.
We need a mayor who understands the everyday challenges that face New Yorkers. We need a mayor who is committed to addressing these priorities.
I will be that mayor.
My priorities are your priorities.
Click here to make a donation!
My plan calls for the hiring of additional 2,000 officers to fight terrorism in our streets and in our subway systems;
My plan calls for building 10,000 new affordable housing units annually and preserving 8,000 more;
My plan calls for reducing the number of chronically unemployed in our communities by putting this priority at the highest level in my administration; and
My plan calls for early intervention and investment in our school children.
That's why I need your help.
Click here to make a donation!
Midnight tonight marks the end of this financial reporting period. I hope I can count on your support to raise the resources that will allow me to be on television and run my field operation.
The September 13th Democratic Primary is only 5 weeks away. Your help is needed now.
Because I am participating in the New York City Campaign Finance Board's matching program, the first $250 of a contribution made by a New York City resident is matched 4 to 1. I hope you will consider these possibilities of what your contribution can do to help spread my message.
$25 contribution will be worth $125 and will pay for a mailing to a tenants association
$50 contribution will be worth $250 and will pay for 1,500 buttons for supporters
$100 contribution will be worth $500 and will pay for printing of campaign literature to be distributed to hundreds of people at subway stops
$250 contribution will be worth $1,250 and will pay to run a phone bank to target voters for 3 hours

I need your help to continue spreading my message across this city. Can I count on your support before midnight tonight?

Click here to make a donation!

Thank you in advance,

C. Virginia Fields
New Yorkers for Fields

email: newyorkers4fields@verizon.net
phone: 212-678-4954
web: http://www.newyorkersforfields.com


Posted by Merkookio at 11:39 PM | TrackBack
Fields accused of 'political club' approach
A July 4th New York Daily News article reports C. Virginia Fields uses community board appointments for political purposes. It's hardly news to anyone familiar with Fields' record.
While the article cites recent Community Board 2 issues, it doesn't scratch the surface as to how Fields has undermined community boards with questionable appointments. (nor does the article question how Council Member Christine Quinn's appointments are also made for political purposes.)
Fields is noted for putting owners and operators of nightclubs -- some of which are notorious -- on community boards. On Community Board 4, Fields appointed John Blair who, at the time, owned one bar and ran nightlife parties. But shortly after his appointment, Blair voted to award a liquor license to a bar in which he had a financial interest -- and not disclosed to other community board members. Later he acquired the infamous Limelight Nightclub on Sixth Avenue. Blair sits on the board committee that votes on liquor licenses.
Fields appoints developers, landlords and landlord lawyers to community boards. One appointment to Community Board 4 was that of a landlord attorney who previously worked for a firm noted for harassing tenants with baseless legal proceedings.
In another case, a developer member of Community Board 4 provided the District Manager of the Board with an apartment. Tenants in the Clinton neighborhood have questioned whether they could obtain impartial assistance from the board when the District Manager has benefited from the developer/landlord's generosity.
To many community activists, Fields' appointments are seen as mediocre, people who rarely question anything, giving the Fields era boards reputations as nothing but rubber stamps.
Gone from many community board appointments are community residents that volunteer in tenant and block groups. A few years back approximately 20% of Community Board 4 members resigned objecting to Fields (and Quinn's) policies and interference. Fields defends her appointments as bringing a "balance" to the boards -- what is seen as an euphemism for paying off landlords and nightclub operators.
For the Daily News article, click below.
Hitting the boards
Fields accused of 'political club' approach
by Maggie Haberman
New York Daily News
July 4, 2005
Since declaring her campaign for mayor, Virginia Fields has come under fire for using her power as Manhattan borough president to play politics with community board appointments.
Some accuse her, as one insider put it, of running boards as her own "political club."
"I keep thinking, if I was running for mayor, is this the kind of stuff I'd be worrying about?" said another.
As borough president, Fields is empowered to appoint all 50 members of a community board, although City Council members recommend 25 of them.
So when Fields recently nixed two members of Community Board 2 on the West Side, City Councilwoman Christine Quinn tried to put them back - only to have Fields reject them again.
One of the appointees in question apparently was punished for holding a "meet and greet" event for Council Speaker Gifford Miller - a rival Democratic mayoral hopeful.
In another incident a few years ago, during a contested race for Community Board 2 president, Fields was criticized for removing two board members just before the voting took place.
And some community board members have complained that too many people in the nightlife business have been appointed to board slots - a tricky thing, since the boards make recommendations about things like granting liquor licenses.
Fields spokesman Dan Wilson said his boss is "very proud" of her appointments.
"One of the things that [she's] been focused on for the past eight years is bringing some balance and diversity to these boards," Wilson said, adding that she's appointed many gay and lesbian members.
***
Fields praised the state Supreme Court ruling allowing gay marriages months ago but dodged a question about gay nuptials at a candidates forum at the Mount Moriah AME Church in Queens last week.
According to witnesses, a man in the crowd said that marriage between a man and a woman has been "under attack," and asked how the Dems would protect it.
Miller and rival Fernando Ferrer shared similar sentiments - that their unions are protected by law and everyone else's should be, adding that they support gay marriage, the spies said.
But Fields ducked the question, saying she supports increased counseling for marriages to keep the divorce rates down - never mentioning same-sex marriage at all.
Fields campaign manager Chung Seto said her candidate was an "early supporter of same-sex marriage," noting that she spoke at a rally with the plaintiffs in the gay marriage lawsuit after the mayor appealed the case.
"She's very strong on the issue," Seto added.
***
The Dems can't seem to catch a break when it comes to supporters appearing to play footsie with the other side.
The most recent example involves Ferrer.
Anyone trolling Ferrer's blog on his campaign Web site recently saw an entry saying how, on his trip to Puerto Rico last weekend, he discovered from the local paper "that the governor of Puerto Rico, Anibal Acevedo Vilá, had endorsed me in my run for mayor of New York City."
Yet on May 13, there was Vilá standing with Bloomberg after the two had met during his visit to New York to get a better look at what the NYPD is doing.
Originally published on July 4, 2005

Posted by Merkookio at 09:55 PM | TrackBack
Time to ration those stamps
From the August 8th Daily News (Michael Saul and Maggie Haberman):
Virginia Fields' mayoral campaign fund-raising trip last month to her hometown of Birmingham, Ala., was supposed to generate $25,000. So far, the Manhattan borough president has come nowhere close to that.
She recently reported receiving $4,000 in donations, after spending $1,000 on the trip. "Checks are still coming in from Birmingham supporters," campaign manager Chung Seto said. "We received another $4,000 since the last [campaign finance] filing."
Also see "When the Well Runs Dry"
Posted by Merkookio at 10:32 AM | Comments (1) | TrackBack
August 05, 2005
Mayoral Hopeless
Virginia, get the picture
Neil Steinberg
Columnist
NY Daily News
July 10, 2005
What's the one most important quality you want in a mayor? The very basic, bottom line?
You don't want the mayor to be a screwup. And, should the mayor make a mistake, because people occasionally do, you want him or her to take the blame. Mayoral hopeful -- or should it now be "mayoral hopeless" -- Virginia Fields failed on both accounts, first by allowing her campaign literature to use Soviet-style doctored photographs showing her cheered by multiethnic New Yorkers (and, I assume, airbrushing out a scowling Trotsky). And second, by trying to duck the embarrassing snafu with the old "mistakes can be made" mealy-mouthed dodge.
Yeah, Ms. Fields, mistakes can be made, and they were, by you, in failing to vet your own campaign literature. It isn't as if you have that much of it. A brochure is a small thing compared to oh, for instance the huge honking city of New York, over which you would like to reign. But if you can't even get your own brochure right, or take the heat when you mess it up, what makes you think you are qualified for the infinitely more difficult job of mayor? Normally, I'd be a little hesitant to light into the Manhattan borough president so. But I was hanging with my posse and they assure me I'm on solid ground here.