« September 2005 | Main | December 2005 »
November 29, 2005
Starquest reveals all
At a November 29th panel at the New School, according to the Ben Smith Gossip Blog, former Parks Commissioner Henry Stern (AKA Starquest) opined that the flap over Virginia Fields Photogate was simply "a substitute" for "people who had a low regard for Ms. Fields' abilities."
Perhaps that explains why the press did little except feed the public serial puff pieces on how "nice" and "inclusive" Virginia Fields was.
Also reported:
Fields campaign manager Chung Seto pointed the finger at consultant Joe Mercurio, who responded in kind: "London was bombed by terrorists the same day and they managed to continue the story."
Posted by Merkookio at 02:54 PM | TrackBack
November 16, 2005
God Save the People of New Orleans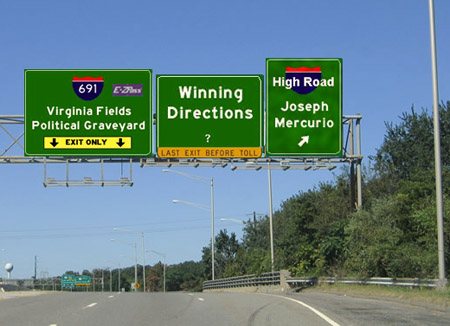 On the road
There are reasons why C. Virginia Fields received only 15% of the vote in the Democratic Mayoral Primary in September: she is inept and never accomplishes anything. Phrases such as 'absent' and 'slow to act' permeate reports from this site.
So what in the world are the politicians in New Orleans smoking these days? We know they need help. We know they feel abandoned by FEMA and the Bush administration. But Virginia Fields?
What's she gonna do ... get Trudy Mason to pose for photos from the Levee? An 'efficiency expert?' We're hearing giggles across Manhattan.
New Orleans needs all the help it can get, but we doubt they'll get anything other than doubletalk and mush from Ms. Fields. Oh, those poor, poor people. First Katrina, then Bush and now Fields.
Here's the Post article:
BEEP is headed for Big Easy
New York Post
November 16, 2005
November 16, 2005 -- Virginia Fields, who failed in her attempt to become the city's first female mayor, has been tapped as an urban expert to assist in rebuilding New Orleans.
The 60-year-old Manhattan borough president, who is leaving office at the end of the year, is part of a nationwide group of volunteers invited to assist Mayor Ray Nagin's Bring Back New Orleans Commission that is supposed to develop strategies to get the Big Easy back on its feet.
"My particular field of expertise is in government efficiency," said Fields, who's held elective posts here for 16 years.
"About half of the city is still without power, electricity and water. Not one public school has reopened," she said. "People seem to be forgetting that nothing has been resolved in terms of improving the lives of these people or rebuilding this city yet."
In the last few weeks, Fields has toured New Orleans, talking to residents and government officials. She returns tomorrow to help propose various rebuilding ideas.
Posted by Merkookio at 04:24 AM | Comments (1) | TrackBack
November 14, 2005
Real Democrats
Is a 'Real Democrat' one who votes for the party's standard bearer? Or is it one so beholden to corporate interests that he or she can't articulate a message to the electorate, has alienated almost every community civic organizations and who is so inept that an alteration to a flyer exposed her candidacy as one devoid of any substance? If you believe Clara Virginia Fields in the Gay City News, the only qualification to be a "Real Democrat" is that you presumably voted for the party's candidate and showed up at the election night party.
Unfortunately for Fernando Ferrer (who had his own communication problems), Fields' candidacy showed that 'Real Democrats' in New York City are usually nothing but hacks, and deserve the political oblivian we're all cheering C. Virginia Fields will enjoy.
Posted by Merkookio at 06:45 PM | TrackBack
November 10, 2005
Must type 50 WPM
This, from the Villager:
Private Fields: Manhattan Borough President C. Virginia Fields recently told us that she has several job offers from the private sector, so it sounds like that's where she's headed. But she didn't offer any specifics.
As the purpose of the blog was always intended to lure Fields into the Private Sector, then something good happened in 2005. Let's hope she knows how to get coffee.