« February 2007 | Main | April 2007 »
March 06, 2007
Fields emerges; embarrasses Hillary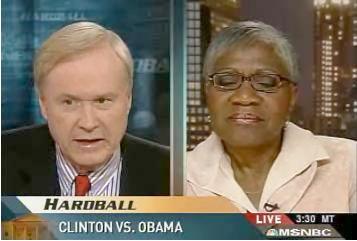 After many months of hiding, C. Virginia Fields emerged yesterday on national television pretending to spar with NBC's Chris Matthews really soft questions. We almost forgot how horrible the Fields' screech could be, but there it was pandering away on behalf of Hillary Clinton (who herself is no stranger to pandering).
Matthews focused on the so-called Showdown in Selma, and, of the two leading contenders for the 2008 Democratic nomination -- Hillary Clinton and Barack Obama, which had the most-forced Southern drawl and who was able to out-Negro the other. Watching Hillary Clinton mimic a Southern drawl on the traditional spiritual "I don't Feel No Ways Tired" is hilarious.
We're presuming that NBC pays Hardball staffers considerable salaries to come up with hard-hitting questions for Matthews to ask his guests, such as:
• Why was it important for Clinton to attend? (perhaps a trick why-did-the-chicken-cross-the-road question designed just for C. Virginia Fields, maybe she was prepped. She got it right: because 'she's running for President')
• Who had the most effective performance? (not answered)
• Do you believe Hillary Clinton can hold her own against Barack Obama in the black community? (not answered)
Perhaps taking a dig at Hillary Clinton, but equally applicable to C. Virginia Fields, Matthews' other guest, Selma Congressman Artur Davis said the black community has "...a lot of experience with politicians over the last fifteen years who became famous, but who didn't have a progressive agenda..."
Concluding the interview, Matthews whoops to Fields, "In fact the Clinton Campaign designated YOU as their spokesperson for tonight's program..." If we were Hillary supporters, we would start praying.
For an audio capture of the exchange (mp3), go here. For the transcript, see after the jump.
For a serious look at the historical importance of the Selma March, go here.
Transcript of Hardball March 5, 2007 segment with C. Virginia Fields and Artur Davis.
You're watching HARDBALL on MSNBC.
(COMMERCIAL BREAK)
MATTHEWS: Welcome back to HARDBALL.
The two top Democrats running for president and former President Bill Clinton paid tribute at an important civil rights anniversary Sunday in Selma, Alabama.
Barack Obama and Hillary Clinton both gave speeches, then walked with activists, who 42 years ago were attacked by police during a peaceful voting rights march, known today as Bloody Sunday.
Congressman Artur Davis of Alabama invited Senator Obama to the gathering. And Virginia Fields, the civil rights activist who marched with Hillary on Sunday.
Good evening to both of you. Thank you for joining us.
Let me go - let me - Virginia, you didn`t get to hear Senator Clinton`s speech, so here`s a piece of Hillary Clinton speaking in Selma yesterday.
(BEGIN VIDEO CLIP)
SEN. HILLARY CLINTON, D-NEW YORK, DEMOCRATIC PRESIDENTIAL CANDIDATE:
And I want to begin by giving praise to the Almighty. "I don`t feel no ways tired."
(APPLAUSE)
"I come too far from where I started from. Nobody told me that the road would be easy."
(APPLAUSE)
I could have listened all afternoon. That pulse and the chair of all the mayors in the country, Mayor Palmer from Trenton, New Jersey.
(END VIDEO CLIP)
MATTHEWS: Thank you much.
Virginia, why was it important for Mrs. Clinton to come down there? I understood that Barack Obama had an invitation.
Why did Mrs. Clinton go down to Selma yesterday?
C. VIRGINIA FIELDS, FORMER MANHATTAN BOROUGH PRESIDENT: Can you imagine what would have been said had she not been there?
She`s running for president, and she`s fully committed to issues of civil rights, and this is not a new thing for her.
And her being there I think was extremely important, because this is an important event in the life and the history of the civil rights movement.
So, she is a candidate for president. And to be at an event such as this, I thought was critically important.
MATTHEWS: Let me go to Congressman Davis. What did you make of the battle yesterday? It was like the battle of the bands. They`re both there. Both candidates, both frontrunners.
Barack Obama gave quite a speech.
By the way, how did he learn to talk like a Southern Baptist? The guy`s got the cadence, the roll and everything. How did he learn to do that?
REP. ARTUR DAVIS, D-ALABAMA: Well, you know, Barack Obama`s a great speaker. And when you come South, your drawl always comes out.
I thought it was a great day. I was very proud as a native son of Alabama. Selma happens to be in the heart of my district, and I had the honor of introducing Senator Obama at both of his talks yesterday. And I was also very proud as a Democrat.
Bill Clinton said something to the crowd at the very end yesterday. He said, this is going to be the rare election where we get to actually vote for someone instead of voting against someone.
That`s how I feel about this field now. It`s going to be the best field, in my opinion, since 1960. And I was glad to see my state at the epicenter of it yesterday for about five hours.
MATTHEWS: Mrs. Fields, let me ask you about the politics of this.
Both of these people are running for president of the United States.
Who do you think had the most effective performance before the people in Selma yesterday, and on international television?
FIELDS: I thought, too, it was a tremendous event. And while I was not at the church when Senator Clinton spoke, I have seen the clippings and talked to others, and everyone thought she did a phenomenal job because not only did she speak to her commitment to issues of Civil Rights and other concerns within the black community, but also what she has done, what she is doing now and the future.
So I thought that her speech was tremendous, and I thought she was very well received. I did march with her, and the cries and the shouts from the people who were there, Hillary, Hillary, wanting to take pictures, all showed tremendous admiration for her. So I thought it was a very important time to be there, and I`m glad that she was there.
MATTHEWS: I`m struck, Congressman, by the rapidity with which Barack Obama has introduced himself to America, especially African-America, if that`s the right term, so quickly moving up in the polls, so quickly asserting his heritage, even though he has a mixed heritage, as an African-American. How did he do it so fast?
DAVIS: This is what`s happened. I think. Three or four months ago, all the black community knew was that Senator Obama was popular and attractive. Over the last several months, he started to talk in detail about his passion for universal health insurance, his passion for universal college access. And what`s happened is that the black community has realized he has a progressive agenda, and that`s what resonates in the black community.
Now, the black community has a lot of experience with politicians over the last 15 (ph) years who became famous but who didn`t have a progressive agenda.
MATTHEWS: Did they also had to get a look at him, to be blunt, to realize he is one of-he is...
DAVIS: Oh, they had to hear him. They had to hear...
(CROSSTALK)
MATTHEWS: ... he fits in the group.
DAVIS: Sure. Of course.
MATTHEWS: I mean, he`s not some guy that claims to have been African-American or...
DAVIS: Look, Chris, even more important than that, they needed to hear him. They needed to hear him talking about a progressive set of values.
MATTHEWS: Yes.
DAVIS: And they heard that yesterday in Selma. The enthusiasm for Barack Obama in Alabama is off the charts now, in the black and the progressive white community.
MATTHEWS: OK, let me go to Mrs. Fields. Thank you for joining us, Mrs. Fields. Do you believe that Hillary Clinton can hold her own against Barack Obama in the black community?
FIELDS: I have worked with Hillary Clinton. I know of her commitment to the black community, as well as others, and this is not new for her. And I think at the end, people do want to know, Who is going to be the best person to move forward the agenda on universal health care, health care disparities, education, eliminating poverty? And Hillary Clinton has been fully committed and with real results in all of those areas.
That is part of why I have chosen to support Hillary, and I will be doing all that I can, including in my home state of Alabama, working for Mrs. Clinton.
MATTHEWS: Well, good for you. In fact, the Clinton campaign designated you as their spokesperson for tonight`s program, and I appreciate them for doing that. And thank you. U.S. Congressman Artur Davis, and of course, Mrs. Fields.
Up next, more on the Walter Reed tragedy with retired general Barry McCaffrey, Marine sergeant Todd Bowers, spokesman for the Iraq and Afghanistan Veterans of America, and Annette McLeod, whose husband was wounded in the war. You`re watching HARDBALL on MSNBC.
(COMMERCIAL BREAK)
Posted by Merkookio at 04:04 AM | TrackBack
March 03, 2007
C. Virginia Fields Sued for Election Law Violations
The New York State Board of Elections has filed legal actions against two campaign committees created by former Manhattan Borough President C. Virginia Fields for her 2005 Mayoral race and her 2006 State Senate race.
Ms. Fields lost the Democratic Primary for Mayor in September 2005 and she dropped out of the State Senate race in June 2006.
By an Order to Show Cause filed February 22nd in Albany Supreme Court, the State Board of Elections is seeking a court order compelling the Fields campaigns to file required campaign finance reports and pay fines.
Although the two committees are separate entities, as a candidate Ms. Fields is ultimately responsible for the filing of the reports and for any fines. The law requires candidates to be notified separately of the lack of compliance and potential liability.
According to Board of Elections officials, if the committees have not been terminated, declared inactive, or still maintain a financial balance, they are required to comply with NYS Campaign Finance Disclosure rules. The latest filing, missed by Ms. Fields and the committees on January 15th, would show who made donations to the campaigns and how the money was spent.
The New York State Election Law states, "failure to file ... shall constitute prima facie evidence of a willful failure to file" and "any person who knowingly and willfully fails to file a statement ... shall be guilty of a misdemeanor."
If the reports are not filed by the court return date in late March, the fines may be increased.
Excerpts from the New York State Election Law:
§ 14-108. Time for filing statements.
5. The state board of elections or other board of elections, as the case may be, shall not later than ten days after the last day to file any such statement notify each person required to file any such statement which has not been received by such board by such tenth day in accordance with this article of such person's failure to file such statement timely. Such notice shall be in writing and mailed to the last known residence or business address of such person by certified mail, return receipt requested. Failure to file within five days of receipt of such notice shall constitute prima facie evidence of a willful failure to file. If the person required to file such statement is a treasurer who has stated that the committee has been authorized by one or more candidates, a copy of such notice shall be sent to each such candidate by first class mail. A copy of any such notice sent by a board of elections other than the state board of elections shall be sent by such other board to the state board.
§ 14-126. Violations; penalties.
2. Any person who knowingly and willfully fails to file a statement required to be filed by this article within ten days after the date provided for filing such statement or any person who knowingly and willfully violates any other provision of this article shall be guilty of a misdemeanor.