We Interrupt this Attack Blog!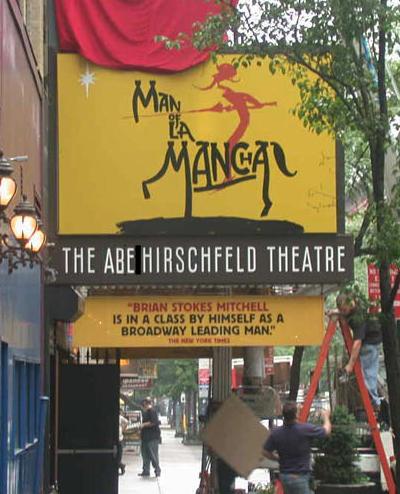 Dateline New York, August 10, 2005 -- He's Gone! No, not Peter Jennings. Honest Abe Hirschfeld passed away last night in Manhattan.
In the heat of the 1997 campaign for Manhattan Borough President, candidate Abe Hirschfeld said of C. Virginia Fields, "My Mother always told me, send a donkey around the world and he comes back a donkey." Fields beat Hirschfeld by 43 points. See here.
In 2004, when he ran for U.S. Senate, Hirschfeld proposed rebuilding the Javits Center and have it double as a stadium along the lines of his Vertical Club. But on the other hand, some of the so-called serious planners and architects appointed to Manhattan's Community Board 4 by Virginia Fields and Christine Quinn also suggested the same thing: put a stadium on top of the Javits and make it look like Frank Gehry squeezings from a Pepsodent tube.
Your webmaster had the unique horror of directly following Abe Hirschfeld in giving testimony at a 1998 City Council forum on a proposal for Yankee Stadium on Manhattan's West Side. Then Council Speaker Peter Vallone was running for Governor (actually taking a dive) and he held the forum with almost no public notice, but nonetheless he was jerking Giuliani's chain and feigning opposition to the stadium.
So there he was, Abe Hirschfeld, demonstrating his plan for a Yankee Stadium on the Hudson along with a model and a see-through plastic roof. Hirschfeld had had his young grandson repeatedly remove and put back the roof on top of the model, although no one could figure out what that accomplished. It was reminiscent of Andrew Giuliani at Rudy's inauguration in 1994. At one point something happened and the model slipped off the table onto the floor, scattering about, whereupon the audience broke into hysterics.
Hirschfeld was a lot of things. Had he been elected to the Borough Presidency in 1997, he would have been as bad if not worse than C. Virginia Fields. But where he bested her, he was entertainment.
And he was right about Virginia Fields.
Click below for the New York Times obit
August 9, 2005
Abe Hirschfeld, Eccentric Developer Who Courted Publicity, Dies at 85
by Corey Kilgannon
New York Times
Abe Hirschfeld, the eccentric real estate magnate who made a fortune building parking garages in New York City and spent much of it courting publicity and running unsuccessfully for public office, died today at Mt. Sinai Hospital in Manhattan. He was 85.
The cause was complications of cancer, his son, Elie, said.
Abe Hirschfeld was one of the city's inimitable cast of characters, defined by zany behavior that grew even zanier in the face of crisis. In 1993, he took over ownership of the bankrupt New York Post for about two weeks, firing its editor, Pete Hamill, and infuriating the staff. Even as The Post spun into chaos, the multimillionaire Mr. Hirschfeld was selling his trademark polyester crossword puzzle ties for $2 apiece. Perhaps the most memorable moment of it all came after a bankruptcy judge ordered Mr. Hirschfeld to reinstate Mr. Hamill and Mr. Hirschfeld planted a big kiss on Mr. Hamill's wincing face for photographers.
In 1998, Mr. Hirschfeld publicly offered $1 million to Paula Jones to settle her sexual harassment lawsuit against President Clinton. In 1999, while representing himself in a tax fraud trial in Manhattan, he took the opportunity to tell Jewish jokes to the jury and to show off a model of his plan to revitalize Yankee Stadium. After the jury declined to convict him of tax fraud, he offered each juror $2,500.
In June 1996, he started Open Air PM, an afternoon paper whose motto was "Love thy Neighbor." It folded after five months.
He even tried to produce for Broadway, financing "Prince of Central Park," which opened and quickly closed in 1989. His attempt to underwrite a show by the comedian Jackie Mason quickly devolved into a public squabble.
After being jailed in 2000 on charges of trying to hire someone to kill a longtime business partner to gain his property, Mr. Hirschfeld managed to stay in the papers by having a publicity agent schedule frequent jailhouse interviews. In his later years, Mr. Hirschfeld lived in a luxury co-op on Fifth Avenue filled with modern art.
Mr. Hirschfeld was prone to making wildly contradictory statements and was constantly accused of not paying his bills. His relationships, whether with business partners, employees or family members, often turned into lawsuits.
"Any person that achieves things and accomplishes things is a little crazy," he once told a reporter in thickly accented English. "Perfectly sane people you only find in an insane asylum."
In its list of "Builders and Titans," Time magazine included Mr. Hirschfeld among the 100 "most influential business geniuses of the century," along with the likes of Walt Disney, Henry Ford and Bill Gates.
Abraham Jacob Hirschfeld was born in Turnow, Poland and immigrated to Palestine in the early 1930's. Most of his extended family, he later said, stayed behind and died in the Holocaust.
He said he worked in factories as a youngster and that his gift for business ventures began in adolescence with a job watering orange trees. He bought a donkey and devised a quicker method and charged more money.
In 1943, he married Zipora Teicher, another eastern European immigrant, and they had two children.
Besides his wife and his son, he is survived by a daughter, Rachel Hirschfeld of Manhattan, and a brother, Menashe Hirschfeld of Montreal, eight grandchildren and two great-grandchildren.
In the 1950's, the family came to the United States and Mr. Hirschfeld began buying commercial real estate, finding a niche developing parking garages. He claimed to have pioneered the semi-enclosed "open-air" garage, which he called a successful innovation because it was cheaper to build and maintain and because "cars don't catch cold."
He owned the Vertical Club on the East Side, one of the early luxury health clubs in the city, co-owned the Hotel Pennsylvania and had interests in the Crowne Plaza Holiday Inn at Times Square and residential properties throughout Manhattan.
But craving perhaps more glory than real estate could provide, Mr. Hirschfeld developed an insatiable appetite for publicity and injecting himself into headlines whenever possible, mostly by running expensive campaigns for elective office. The political party line varied, but the nickname did not. It was always Honest Abe.
It was Honest Abe for Congress, for New York City Council, for Manhattan borough president in 1997, for New York state lieutenant governor, for state comptroller in 1998 and for mayor of Miami Beach.
That he was rarely even a factor in these races did not seem to bother Mr. Hirschfeld. His candidacy typically lasted as long as he could manage to draw reporters to his news conferences. He did serve as treasurer for the New York State Democratic Committee in the 1960's and was elected to the City Commission of Miami Beach in 1989. While serving, he made headlines by spitting on a Miami Herald reporter.
Since many of Mr. Hirschfeld's assets were mired in lawsuit, debt and ownership disputes, it was hard to determine his net worth. All he would say is that it was over $10 million.
In a 1999 trial on charges that he had failed to pay $3.3 million in back taxes, the jury deadlocked and Mr. Hirschfeld offered each of the 10 jurors a $2,500 check. He called it a reward, but prosecutors complained that it was a message to jurors in his upcoming cases.
In 2000, he was sentenced to one to three years in jail for criminal solicitation for an unsuccessful 1996 plot to kill a longtime business partner, Stanley Stahl, a real estate magnate with whom he had a bitter feud and a "survivor take all" agreement for several properties they co-owned. He served two years. In 1993, when the New York Post was in a financial spiral, Mr. Hirschfeld got a bankruptcy court judge award him control of the paper, which he would hold for just over two weeks. He fired Mr. Hamill, the editor, and threatened to fire many newsroom employees and use the paper to print his wife's poetry. The staff mutinied, held protest rallies and at one point devoted virtually every page of news coverage and editorial space to unseemly articles about Mr. Hirschfeld. One issue featured a front page illustration of Alexander Hamilton, the Post's founder in 1801, with a single tear running down his cheek, and included a Page 3 headline asking, "Who Is This Nut?"
Mr. Hirschfeld only seemed to relish the attention. He called the issue a collector's item and took credit for its brisk sales.