Two Honkies get Axed
Former Fields' consultant Joe Mercurio has released the before and after versions of the infamous Photogate fliers. The first version shows two white individuals appearing to stare off into space. The second version (subject of Photogate), shows two Asians also appearing to stare off into space. Question is, who are those two whites, and did they also not endorse Fields?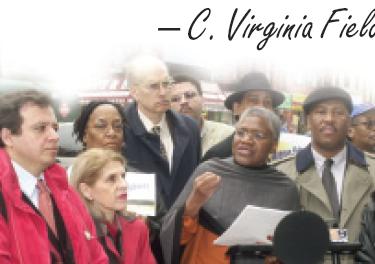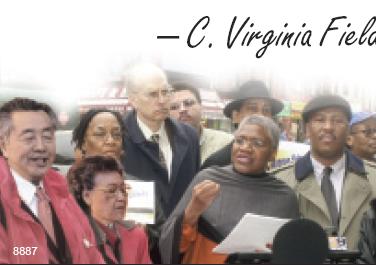 For the complete fliers in PDF, see before and after. See page 2 of each PDF file.
Update #1:
The Politicker is reporting the Fields' campaign response to the release of the two versions of the Photogate flier:

"Virginia Fields does not review drafts of campaign literature in email. As is true with many candidates, she reviews all drafts of campaign literature in hard copy. She was paying Joe Mercurio $15K a month for his political services and this included overseeing the campaign literature process and the use of the photo in question was his decision. She was outraged to learn last week that the photo was doctored with stock images and she made a decision about who was responsible and took action. She never saw the photo before it was doctored. At no point did Mercurio disclose that the photo in the literature had been doctored. His attempts to blame this on other people are shameful and must stop." -- Kirsten Powers, Fields spokesperson.

Update #2:
Newsday (Dan Janison and Glenn Thrush) are reporting:

Valachi had his papers, Monica had her dress and Captain Queeg had his strawberries. Now Joe Mercurio has his e-mails.
Mercurio was dismissed as C. Virginia Fields' campaign consultant after it was discovered two Asian-Americans had been digitally inserted into campaign literature. Now he's waging his own e-mail campaign defending his reputation.
Fields said she didn't know the faces were added. Mercurio has insisted otherwise since his firing was announced Friday.
On Wednesday, Mercurio sent reporters copies of four of his e-mails to Fields and senior staffers, dated between March 19 and June 20, that included attachments of the Asian Americans-included flier.
They seem to contradict the borough president's claims. Calls to a Fields spokeswoman weren't returned.