Yassky Schmassky
Before we flashback to why C. Virginia Fields is running for State Senate ... and why she needs to be stopped, of course, she is not the only incompetent fool running for office.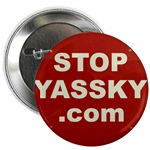 We invite you to pay a visit to http://stopyassky.com where Brooklyn residents hope to stop City Council member David Yassky from being elected to Congress in the 11th Congressional District.
What Virginia Fields did to Manhattan, David Yassky is doing to Brooklyn ... wholesale destruction of neighborhoods and communities.
While we do not agree that identity groups (whether based on race, gender, sexual preference or whatever) should have an automatic entitlement to office in any particular district, there is a history and there are arguments that the 11th district was created to provide some measure of racial equity at Brooklyn ballot boxes.
But even if Yassky were purple, he's such a horrible person. And like Fields, he built his political career on pandering and deception. He should be turned away in this year's congressional race so he may suffer the misery of term-limited lack of relevance.