The Ginerator, Making Copies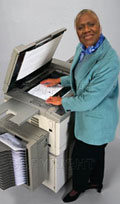 One would think with all the minions taking up space on the 19th floor of the Municipal Building (even if they were to do it on their own time), you could find someone who could publish and print something that puts your candidate in a good light. But no, with Photogate still hounding the Virginia Fields' campaign, they rushed out xerox copies of new campaign literature for a campaign stop Monday, according to a report in the New York Post.
Now with Joe Mercurio gone, was Virginia Fields left to do her own paste-ups? How much cash is left? Are donors fleeing from what some reporters are calling a 'hapless' candidate?
Click below for the NY Post report.
Reeling Fields' Latest Fliers Real Cheapies
NY Post
by Stephanie Gaskell and Frankie Edozien
July 12, 2005 -- Trying to bounce back from her campaign flier debacle last week, Virginia Fields campaigned at the Utica Avenue subway stop in Crown Heights yesterday - where she passed out new materials to voters that appeared to have been shoddily made.
Just days after firing her campaign manager Joe Mercurio for authorizing a campaign leaflet that superimposed two Asian-Americans over two whites, Fields presented handouts that were Xeroxed, not slickly produced like most campaign literature.
The Xeroxed handouts are a possible sign that the Fields campaign is running short on cash or scrambled to give something out since it can no longer use the doctored photo.
When asked if she thought the flier flap would hurt her campaign, Fields said voters would judge her on her record.
"Voters are smart, voters look at everything," she said.
The Fields campaign also apologized yesterday for comments she made in her hometown of Birmingham, Ala.
While remembering her experiences as a 17-year-old taking part in the civil-rights protests led by Martin Luther King Jr., she recalled being "put into a paddy wagon."
The term "paddy wagon" is considered by some to be offensive to the Irish.
"She did not mean to offend anyone. If she did, she is very sorry," campaign spokeswoman Kristen Powers said.
Also yesterday, Mayor Bloomberg was endorsed in five different languages by members of a union representing 3,000 doctors from city hospitals.