Laughing for, with, or at?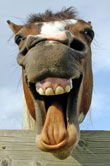 If anyone really cares, Virginia Fields will hold a fundraiser July 19th at the Laugh Factory on 42nd and 8th Avenue (where Show World formerly entertained the masses). Entertainment by Paul Mooney.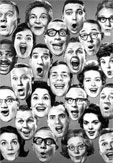 We thought about using this picture, but it was too white and we would be forced to add a few blacks and chinese.
This will not be the first time Virginia Fields has appeared at the Laugh Factory. A few weeks ago, she appeared and even sang this song (God's Honest Truth, she sang that -- if anyone has the actual tape, please contact us).